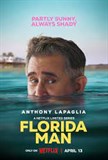 If you recently watched the Netflix series,
Florida Man
, you may recall Sonny's
(Anthony LaPaglia
) bar on the waterfront.
You can visit Sonny's and enjoy more than a drink. It is
The Sailfish at Marsh Creek Marina.
The food is delicious, and you can sit by one of the most pristine marshes in North Carolina with a view of the ocean.
Florida Man is not the only production that found Pender County a perfect backdrop for Hollywood film and television shows.
Recently Showtime's
George & Tammy
starring
Michael Shannon
as George Jones and
Jessica Chastain
as Tammy Wynette used the former Dees Drug Store in Burgaw for scenes in the hit limited series.
Also based in Burgaw was the television show
Welcome to Flatch
with
Seann William Scott
and
Jaime Pressly
.
The Pender County Visitor Center, at 106 E. Wilmington St. is the home of
Pender County Tourism
. In
Welcome to Flatch
our office was transformed into an editor's office, a historical museum, and a real estate office.
However, that's not the first production to visit. Our office has also been used for
Under the Dome
and the horror movie
Jailhouse
with
C. Thomas Howell
.
One True Loves
starring
Phillipa Soo
,
Luke Bracey
, and
Simi Liu
of Marvel's Shang-Chi. While filming, Simi Liu took a few moments of rest in our conference room.
Even though
Dawson's Creek
was aired more than 20 years ago, the television show starring
James Van Der Beek
,
Katie Holmes
,
Michelle Williams
, and
Joshua Jackson
, has a strong following. The
Town of Topsail Beach
was a favorite location for
Dawson's Creek
.
One Tree Hill
, starring
Chad Michael Murry
and
James Lafferty
as two half brothers competing in the town of Tree Hill, was set in
Burgaw
, Lanes Ferry (at the bridge over the
Northeast Cape Fear River
), and
Topsail High School
.
In the Town of
Watha
, once Pender County's seat of government, is a beautiful pink house that was used in the
Secret Life of Bees
. Starring
Queen Latifa
,
Dakota Fanning
,
Jennifer Hudson
, and
Alicia Keys
, this farmhouse was painted pink for filming. You can drive by the house on Watha Road.
Watch the trailer
here.
Not far from Watha is
Currie
. Currie is a fascinating area because it is the site of the
first Patriots' victory in the Revolutionary War
. Currie is also home to two locations of movie fame –
The Conjuring
and
Teenage Mutant Ninja Turtles
. The Conjuring
trailer
features the house at 405 Canetuck Rd. so watch the trailer and as you drive by, the hair on your arms will stand on end! Don't trespass but gawk all you want. Near the bend in NC Hwy 210 before approaching Moores Creek National Battlefield is a property surrounded by a white fence. Sitting at the end of the driveway is a beautifully restored home. This property was used for two productions – the
Teenage Mutant Ninja Turtle
s and the TNT series
Good Behavior
, which starred
Michelle Dockery
of
Downton Abb
ey fame.
Good Behavior
also used a home on the Intracoastal Waterway in the Hampstead
Village Harbor neighborhood
in which a murder in the television show occurred.
The show also used Rocky Point's
Paul's Place Famous Hot Dogs
for diner scenes.
Paul's Place
is Famous not only for its hot dogs but also for the many actors and shows that have darkened its doors. Check out this
documentary
that shares some stories about visitors that includes Arnold Schwarzenegger, Ben Affleck, and Buddy Hackett.
Up in Atkinson is an old schoolhouse at 3980 Morgan Road that was used in the production of
Sleepy Hollow,
starting
Tim Mison
as Ichabod Crane. The school was used for the hospital scenes, selected for the black and white checkered flooring. And of course, the woods and rivers in Pender County made an excellent backdrop for battle scenes and more.
In Hampstead, at the end of Lewis Road, is a boathouse beside the Wildlife Resources Boat Launch. This building was burned in
Domestic Disturbance
by
Vince Vaughn
in his attempt to kill
John Travolta
. We would recommend not visiting on a weekend when so many boaters line up to launch. But you can park in the lot and take a photo if you wish.
There are so many more locations for films and television shots in Pender County. We have dedicated more Burgaw locations on our
Hometown Hollywood Walking Tour.
The tour features locations from movies such as
Tammy
with
Melissa McCarthy
,
Freedom Song
with
Danny Glover
,
Silver Bullet
by
Stephen King
,
I Know What You Did Last Summer
, and the
Divine Secrets of the Ya-Ya Sisterhood
. There's more! So, check it out today!