2023 is the Year of the Trail
Why are we celebrating the Year of the Trail? Click here and watch the video about North Carolina, the Great Trail State.

2023 NC Year of the Trail will be a landmark year for North Carolina to celebrate, promote, and highlight trails across our beautiful state, and firmly establish North Carolina as The Great Trails State. This campaign will showcase North Carolina's thousands of miles of trails that are deeply woven into our history and our culture. The campaign is hosted by the Great Trails State Coalition, a broad-based coalition supporting all types of trails across North Carolina.

Pender County Tourism is currently scheduling our family-fun hikes/walks as we join the State of North Carolina to celebrate the Year of the Trail.

Pender County will join in celebrating trails with community-based family hikes conducted once per month. Each walk will feature a different portion of our county. We know in March we will be walking in Topsail Beach.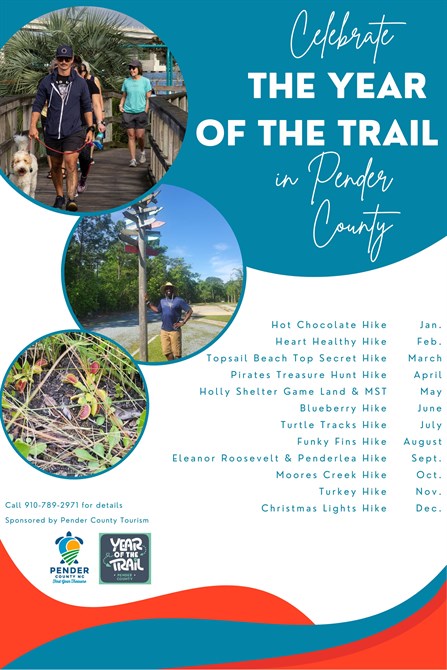 If your community wants to be involved, contact Tammy at 910-789-2971 or email her today!

Watch here and on our Facebook page for details.