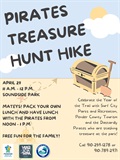 SURF CITY- Pirates are returning to Topsail Island on April 29. As part of the Year of the Trail celebration, a band of pirates will lead the Pirate Treasure Hunt Hike in Soundside Park, 517 Roland Ave., Surf City.
"Pirate legend and lore is a part of Pender County's history," said Tammy Proctor, Pender County Tourism director. "It's only fitting that a troupe of pirates take us along a path of hidden treasure."
The Pirate Treasure Hunt Hike will meet at the picnic shelter at 11 a.m. The hike is less than 1-mile along the Soundside Park boardwalk. At noon, following the hike, families are invited to bring their lunches and dine with the pirates at the picnic shelter.
The event is free of charge.
Pets are prohibited on hikes.
This swashbuckling adventure is made possible with the collaboration of our merry band of pirates, Surf City Parks and Recreation, and Pender County Tourism.
The Year of the Trail is a statewide celebration to introduce North Carolinians to state trails. Pender County and its partners are sponsoring one family-fun hike per month. The May hike will venture into Holly Shelter Game Land on May 16, 9:30 a.m.
For more information call 910-259-1278 or 910-789-2971.