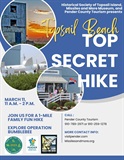 TOPSAIL BEACH- The Historical Society of Topsail Island, Missiles and More Museum, and Pender County Tourism will present the Topsail Beach Top Secret Hike on March 11, starting at 11 a.m. This hike is the third in a series of monthly family-friendly hikes in celebration of the Year of the Trail.
Hikes will be offered every 30 minutes with the last hike stepping off from Missiles and More Museum at 2 p.m.
"This is a free 1-mile, family fun hike," said Janine Stidley, director of the Missiles and More Museum. "The entire path is paved which makes the Top Secret Hike wheelchair and stroller accessible."
There is no fee to join the hike, which will include stops at historic sites from Operation Bumblebee, the top-secret mission that developed guided rocket and missile technology. Pets are not permitted.
Throughout the year, Pender County Tourism and partners are presenting family-fun hikes to celebrate the Year of the Trail. The Pirates Treasure Hunt Hike is set for April 29 at Soundside Park at 11 a.m.
For more information about the hikes, call Pender County Tourism at 910-789-2971.