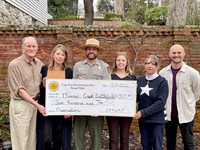 Currie, NC- The staff and volunteers of Moores Creek National Battlefield would like to thank the members of the Cape Fear Revolutionary War Round Table (CFRWRT) for their recent donation to the park.
The Cape Fear Revolutionary Round Table is a group of people, men and women, united by a common interest in the Revolutionary War era with an emphasis on Southeastern North Carolina.
The CFRWRT is donating funds to help the park develop new exhibits that will highlight important stories at Moores Creek National Battlefield. These exhibits will be enjoyed by park visitors for many years to come.
These donations will lead to increased awareness and appreciation of this park, the battle, and its significance.
In addition, these projects will directly support visitor enjoyment, interpretation, and education of the Battle of Moores Creek Bridge. Thank you again to the CFRWRT for your generous support. For more information about Moores Creek National Battlefield, please visit www.nps.gov/mocr. For more information about the CFRWRT, please visit their Facebook page.