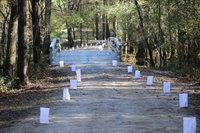 CURRIE – The Battle of Moores Creek Bridge, the first victory for the Patriots over Loyalists to England's King, happened in the darkness of February 1776.
On Nov. 19 visitors can journey back to that dark morning of the Revolutionary War as the staff of Moores Creek National Battlefield presents its annual Candlelight Tour.
"Hear the history from John Grady, Colonel Caswell, Flora McDonald, and others along the 11-stop tour," said Jason Collins, Chief of Interpretation at Moores Creek National Battlefield. "You'll witness Loyalists sneaking around the camps and you'll hear bagpipes and a fife as you walk around the battlefield."
The Candlelight Tour gives visitors a true experience of the battle. Normally the park is closed at dusk, but on Nov. 19, visitors will experience the dark and some cold (certainly not a February cold – but cold nonetheless).
The Battle at Moores Creek Bridge is significant in the Revolutionary War and the ideals of independence. The victory was the first in North Carolina. Word of the victory rekindled hope in the beleaguered Continental soldiers. The victory energized a group of North Carolinians to attend the second Continental Congress in what is called the Halifax Resolve, leading North Carolina to be the first colony to declare its independence from British rule.
Moores Creek National Battlefield is a site that commemorates amazing American Revolutionary War history – right here in Pender County.
The Candlelight Tour is free. However, reservations are a must. Tours begin at 5:30 p.m. and the last tour steps off at 9:15 p.m. Tours leave every 15 minutes from Patriots Hall. The tour ends at the Visitor's Center. At the end of the tour, a hayride delivers visitors back to Patriots Hall.
Collins adds that all ticket holders should arrive 15 minutes before their tour steps off. Ticket holders sign in. If a ticket holder does not sign in, walk-ins take the vacant spots.
"A limited number of walk-spots are available, but we cannot guarantee a spot on a tour," Collins said.
The candlelit evening is made possible through the volunteers of the Moores Creek Battlefield Association, a local Scout troop, and the staff at Moores Creek National Battlefield."Tickets are available starting today," said Collins.
For ticket reservations call 910-283-5591.
Moores Creek National Battlefield, located at 40 Patriots Hall Dr., Currie, is Southeastern North Carolina's only national park.