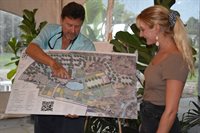 Willard is home to a destination that sings in color.
That's how David Johnson describes the gardens and nursery at Johnson Nursery, "will be singing in color."
The business is growing at 985 Johnson Nursery Rd., just off Interstate 40.
One of the largest commercial growers in the state, Johnson Nursery opened a retail garden center with a beautiful variety of 1,400 varieties of annuals, perennials, shrubs, ornamental grasses, vines, and tropical plants.
The Johnson Family, including Annie, David, Jill, Chason, and more than 100 employees have created The Gardens with an event center tent, and an outdoor kitchen with a pizza oven.
"We can host weddings and special events," said David.
The nursery, the garden center, and the Gardens of Southeastern North Carolina with the event center have been David's dream for decades. As founder and president of Johnson Nursery, David dreamed of starting a wholesale nursery on the Willard-based family farm. He attended Duke University and then he studied Horticultural Science and nursery management at NC State with renowned J. C. Raulston, whom the New York Times called a "giant in horticulture" and the NC State arboretum bares Raulston's name.
In 1981, David started Johnson Nursery. Later the garden center opened to the public.
On Oct. 22, Johnson Nursery and the Gardens of Southeastern North Carolina will host their first large event, the Annual Fall Festival.
"We will offer something for everyone," said David. "It is a family event."
Admission is free. Covered wagon rides to a real pumpkin patch will be available. Also available are for purchase, pumpkins picked by festival goers.
"We have more than 30 vendors, food trucks, and of course the pizza oven from Italy," said Wendi Epps, one of the employees who are planning the festival.
Inside the event tent, beer and wine tastings will be served. The event tent is heated and air-conditioned.
The fall festival will feature several stations for children and a kids' zone where children can paint and decorate their own pumpkins.
"We will have several educational events during the festival," said Wendi, "It's going to be fun."
Before, during, and after, Johnson Nursery offers a full fall array of flora.
David believes in dreaming big. He sees the grounds of Johnson Nursery as a place to grow and be inspired. He said they are dedicated to improving lives, cultivating inspiration, offering a variety of experiences, creating jobs, and generating income for the community.
Stop by Johnson Nursery and be inspired by the singing of color. The garden center is open Monday through Friday, 8 a.m. – 5 p.m. and Saturday, 9 a.m. – 2 p.m.
The Fall Festival is open on Oct. 22, 10 a.m. – 7 p.m. Watch for a winter festival next!
Call 1-800-624-8174 or visit them online and on Facebook and Instagram.