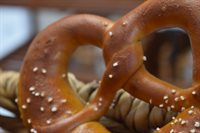 HAMPSTEAD – True Blue Butcher and Baker opened two weeks ago in Hampstead, in the former Pretzel Man bakery, 13865 US 17.
The True Blue Butcher and Baker location is another of the growing and highly successful endeavors by Chef Bobby Zimmerman, a former Landfall chef.
In 2016, Zimmerman started True Blue Butcher and Table on Military Cutoff Road. Next, he opened True Blue Butcher and Barrel on Greenfield Street, a restaurant that features the craft of finely cut meats and bourbons, ryes, and scotch. He recently opened Mariposa Tapas Bar.
On Aug. 12, Zimmerman and his staff officially opened True Blue Butcher and Baker in Hampstead.
"This was a bakery and we started using it as a commissary for our fresh baked goods," said Sarah Bell, a manager with the company. "There has been a lot of interest, so we opened a full-service retail butcher shop and bakery."
Bell said many residents ask about "the Pretzel Man" who baked in the shop before True Blue Butcher and Baker opened.
"He's here!" Bell chuckled. "Marcus is baking pretzels."
True Blue's bakery complements its meats with offering such as Challah Lobster Rolls and Challah Burger Buns. Also on the menu are sourdough bread, sourdough focaccia, soft and fluffy Telera Rolls, and Cubanos.
"Our taste of Italy breads are the Italian Baguette and the Italian Loaf," said Bell.
"Each day we have fresh baked pastries," added Bell.
True Blue Butcher Shop offers ground beef, center cut filet mignon, New York Strip steaks, ribeyes, Lady Edison Pork Chops, whole chickens, and crabcakes. The shop offers several Butcher Boxes filled with varieties of steaks, pecan smoked rotisserie chicken, filets, smash burgers, and more. The boxes range in price from $105 to $245. They also sell DIY cheese and charcuterie kits, DIY steak kits, and DIY burger kits. Orders will be accepted online.
"There is no waste in our shop," said Bell. "We trim all meats, and we grind the trim for our burgers. We trim fat and we boil it down to clarify it for beef broth."
"The developing of the name of the company is an interesting story," said Bell. "Chef Bobby wanted a trustworthy company. True Blue. But in the 1600s, in England and eventually throughout Europe, butchers wore true blue aprons while working."
The True Blue brand is dedicated to wholesome ingredients and the craft of cooking. From 28-day choice and prime beef, local pork, and chicken, locally sourced and imported seafood, to produce grown by North Carolina farmers, True Blue says they aim to serve the area. One of the sources of fresh ingredients comes from Pender County-based Humble Roots Farm.
At True Blue Butcher and Baker, the retail store offers locally roasted coffees, Spicewalla spices from Ashville, honey, snacks, wines, and cocktail mixes from Pomona Shrub Co.
"We welcome the area to check us out online or stop by," said Bell. "Our company believes food inspires life."
The Hampstead location is open daily, 10 a.m. to 6 p.m. The telephone number is 910- 319-0695.
"The question we often hear is, 'When are you opening a restaurant?'" Bell shrugs and smiles, leaving one to hope it is in the future.