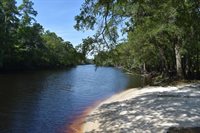 There's a place where Pender County meets Bladen and Sampson counties. It's a quiet place along the Black River. It's a place for primitive camping. It's a place to fish or launch a kayak.
The place is
Black River Camping Ventures
, located on the sandy banks of the Black River. With 12 primitive camping sites, it is the perfect place to kick back and enjoy nature.
"We opened in 2020," said Lisa Bryan.
The property has been in her family for decades. Her parents are the late Jack and Barbara Applewhite, who cared for the property for years. The Black River and Iron Mine Point were a part of Lisa's growing up.
"Mom cooked chicken and rice on the camp stove while we kids swam," Lisa recalled. "Daddy loved this property and he always seemed to find a chore to do around the river."
Lisa and her husband, Eric, decided to open the property to campers. Eric installed two water handpumps for washing up and two porta-potties for primitive campers. They've installed four charcoal grills for campers to share. Each campsite has a picnic table, trash cans, and a fire ring.
"We've hosted guests from Australia, Brazil, and England, and we love seeing people enjoying the land and river as much as we have through the years," said Lisa.
She said many campers are residents of Hampstead, Fayetteville, and surrounding areas.
Black River Camping Ventures has a common area featuring a sandy beach, a kayak launch, and two swings for just enjoying the view of three counties.
Across from the launch is an area historically known as Iron Mine Cove. Lisa said as water drips from the high bank, it glistens in the sunlight, creating a look of bright iron.
The Black River is known nationally as one of the most pristine rivers in the United States. It's tea-colored water comes from the trees growing around its banks. Its bottom is sandy.
Lisa said the fishing is good at Black River Camping Ventures.
"All year long the fishing is good," she said. "We catch catfish, largemouth bass, bluegill, and other pan fish."
Black River Camping Ventures is conveniently located off NC Hwy 210-East. It is 10 miles from Kelly (therefore just 10 miles off the Mountains to Sea Trail for hikers looking for a quiet detour) and just 16 miles from Garland. The address for Black River Camping Ventures is 16691 Hwy 210-E, Ivanhoe. Lisa said locals call the area the "Rowan Community of Ivanhoe" of Eastern Bladen.
Reservations are required to camp at Black River Camping Ventures. The private campground can be found on
www.hipcamp.com
, a camping booking site. For information, call 910-669-2392.