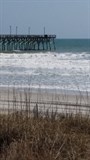 BURGAW – With the rising cost of gasoline, it's time to explore our Pender County backyard for things to do and see.
Recently we examined the free activities available. This week we are going to explore the more inexpensive activities that abound in Pender County.
Let's start with Topsail Beach. At the south end of Topsail Island is Serenity Point. It's a great place to go shelling. The south end is the only portion of the Town of Topsail Beach that charges for parking and that is because the town leases the property, and the town must pay taxes on it.
Serenity Point is a beautiful undeveloped stretch of beach. It is perfect for shelling. It is also perfect for fishing. The Intracoastal side of Serenity Point is a local favorite swimming hole, especially for those who can't withstand the pounding surf of wave action.
Also in Topsail Beach is the Historical Society of Topsail Island. At the Assembly Building on Wednesday afternoons, for a $1 donation, children can participate in the Fort Fisher Aquarium programs, sponsored by the historical society. The program starts at 1 p.m. On June 29 the topic is Amazing Alligators.
The historical society also sponsors Bingo! for the entire family. This can get expensive if you play multiple cards, but there's also a chance to bring home cash if you win!
In Topsail Beach, visit Patio Playground for a round of putt-putt. Enjoy ice cream and the arcade while you're there.
The Topsail Skating Rink, above the post office in Topsail Beach, is an inexpensive activity. Rent skates and glide across the wooden skating rink to your heart's content.
There are two piers – the Jolly Roger Pier in Topsail Beach and the Surf City Ocean Pier in Surf City – that offer fishing gear for a low price. The price of admission also includes your fishing license for the day. It's a fun way to enjoy the surf and bring home dinner.
Take a boat shuttle to Lea Island and spend the day on an uninhabited island. The weekends are busy on the island because it's a boaters' favorite stop. But Mondays are a wonderful time to visit. Tuck's Water Shuttle will get you there and bring you home.
While on Topsail Island, there are two educational groups offering classes for children (and adults). Funky Fins and Ecological Marine Adventures (EMA) offers classes for children about the critters under the sea. EMA also offers stand-up paddleboarding classes and a myriad of other classes. These options need to be booked ahead of time. Check out the tourism website,
www.visitpender.com
for contact information.
Several businesses offer surfing lessons, including Surf City Surf School, Spinnakers, Onshore Surf Shop, and 50 South Surf Shop.
They say the best days are when you buy a boat and when you sell the boat. Why buy or sell when there are several boat rental companies on the island? Again, check out the website for details.
The Karen Beasley Sea Turtle Rescue and Rehabilitation Center is now open. All visitors must register online and pay admission online. This saves you from hours of standing in the hot sun with wilting children. This is a must-visit.
Last week we discussed Poplar Grove Plantation. Tours are available, but there is an admission charge. It's an interesting tour, especially if you value history.
On NC Hwy 210 is Desperado Horse Farm and Trail Rides. The company is family-owned and they are terrific with families. Everyone from beginners to experienced riders can explore more than 500 acres of natural forest and trails on the farm. Call ahead for an appointment.
Did anyone say golf? Pender County is home to several courses, namely Castle Bay Club and Olde Point Country Club. But you can putter on the putting greens near the clubhouses, and you can purchase a bucket of balls for the driving range. Another alternative is IronClad Golf, formerly Belvedere Country Club. IronClad features an 18-hole course, but you can select a five-hole challenge or their driving range.
Take a kayak trip at Miller's Pond or launch at several area launches, including Soundside Park and Moores Creek National Battlefield. On the island are kayak outfitters, such as Herrings Outdoor Sports and Onshore Surf Shop.
Pender County Tourism has just scratched the surface of all the things to see and do. We haven't discussed Penderlea Homestead Museum or any of our farms.
Be sure to visit our
website
and
Facebook page
for ideas. Feel free to call our office with any questions. The number is 910-259-1278.