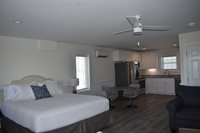 A full kitchen, a large screen television, a comfy bed, and an ocean view – it sounds like the perfect vacation accommodation, right?
Saltwater Suites
is set to open by Memorial Weekend and they are ready to offer the perfect vacation accommodation.
Each of Saltwater Suites' 24 units features an ocean view. Each suite offers a king-size bed or two queen beds in approximately 680-sq. ft. of modern, open living space. The majority of the units feature a washer and a dryer. The living area features a sofa, a dining table, a full kitchen, and spacious a bath and closet.
Three of the suites are ADA accessible with compliant kitchen appliances and baths.
"This concept was born from our response to
Loggerhead Inn
," said manager and principal owner Richard Stroupe. "We wanted to raise the level of experience for our guests."
Thus, Saltwater Suites was designed for visitors who want quality accommodation with flexibility in scheduling. The suites are available for reservations by the day, instead of by the week.
"For security and convenience all access is remote with a keyless entry," said Stroupe.
The former owner of two software businesses, Stroupe said he threw himself into the 2017 purchase of Loggerhead Inn. He laughs when he admits his only design knowledge came from a few episodes of HGTV.
"I wanted to do something different," Stroupe said. "We focused on Loggerhead Inn and the beach."
The amazing total renovation and reconstruction of Loggerhead Inn was the beginning of a good relationship with the hospitality industry. When Stroupe decided to expand, he turned to local labor, and sourcing local materials. He used the same coastal designer who worked on the beachy comfort interior design of Loggerhead Inn.
"We take pride in the workmanship, and we want to promote the local economy," he said.
Saltwater Suites is located at 605 N. Topsail Dr. For rental information, contact
Blue Star Real Estate
at 910-508-6077.