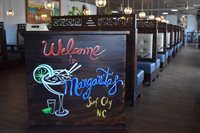 Good food, drink, and good service is found at Margaritas Mexican Grill and Cantina
Just days before Bernardo Garcia was about to sign a contract to open a new restaurant in Virginia, he and his family vacationed on Topsail Island.
While shopping in Treasure Coast Square on North New River Drive, Garcia saw a vacant storefront.
"I immediately envisioned a restaurant in that location," recalled Garcia.
He contacted his business partners – all of whom are family – and told them, "I'm going to the beach."
Garcia named the restaurant
Margaritas Mexican Grill and Cantina
.
"It is natural when you are on the beach, you think of margaritas," he chuckled.
Garcia is the owner and general manager, but he is flanked by family support in the business. His uncle, who has spent 25 years in the food industry, is the chef. His sister-in-law and cousins are integral to the success of the restaurant.
"This is a family partnership," he said.
"We installed new flooring. We ordered the booths from Mexico," he said. A great deal of thought and planning went into the design and atmosphere of Margaritas Mexican Grill and Cantina, explained Garcia, who handcrafted the bar for a distinctive look.
Two things are important to Garcia and his family – fresh food and friendly service.
"We want every customer to have good service," said Garcia.
The food is fresh, using family recipes. The salsa, chips, and guacamole are made fresh daily.
Jimmy Buffet sang that it is 5 o'clock somewhere. But at Margaritas Mexican Grill and Cantina, it's always 5 o'clock because Garcia mixes his secret recipe for his margaritas.
"Our food is fresh and made here," he added.
Fajitas are extremely popular at Margaritas. The chicken dishes, the APC, and ACP Deluxe are also among their best sellers. The APC is Arroz con Pollo, grilled chicken strips on a bed of rice and topped with cheese sauce, and served with salad and tortillas. The APC Deluxe is grilled chicken strips, grilled mixed vegetables, served on a bed of rice and covered in cheese sauce.
"Our Street Tacos receive wonderful, positive comments from our customers," said Garcia.
The Street Tacos are all served on a double corn tortilla, garnished with cilantro, onions, salsa picosa, and lime wedges, and served with a side of rice and refried beans. Customers have their choice of carnitas, campechana, and steak.
The menu has something to please every palate including desserts. Margaritas also feature a perfectly proportioned lunch menu.
Margaritas Mexican Grill and Cantina is open seven days a week. The hours are Sundays, 11 a.m. – 9 p.m.; Mondays through Thursdays, 11 a.m. – 10 a.m.; and Fridays and Saturdays, 11 a.m. – 11 p.m.
The restaurant is located at 204 North New River Drive in Surf City. You can find them on
Facebook
and Instagram. For more information call 910-541-0167.