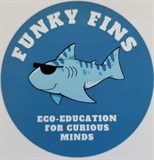 Funky Fins, an eco-education for curious minds, is the dream child of Chris Lener. She's no stranger to conservation or education.
"I taught science in grades K-12 for 25 years," Lener said. "I love working with children. I love seeing their delight at discovery."
Lener said she is looking forward to making new discoveries with visitors and residents in the Greater Topsail Island area as well as Pender and Onslow counties.
"North Carolina has a magnificent coastal eco-system," said Lener, who has an MS in Marine and Environmental Studies. "The world's finest wilderness lies beneath the waves."
A native of Connecticut, Lener became friends with an icon of Topsail Island and conservationists – Jean Beasley of the
Karen Beasley Sea Turtle Rescue and Rehabilitation Center.
"Through Jean and the sea turtle hospital, we were introduced to Topsail Island," said Lener.
Lener has opened Funky Fins, an educational program for children. She is drawing upon her years of education as well as the many years of summer studies she led with students. She has taken students to Costa Rica, Mexico, Florida, and North Carolina for learning experiences along the coastlines.
In Funky Fins, Lener has created programs such as Explore the Shore, Nighttime Nesters, and Beach Beasties. The classes are educational and full of discovery with an underlying theme of conservation.
"Participants will learn the importance and complexity of coastal habitats," said Lener. "We'll explore some incredible critters that call our coast their home."
Registration for the classes is open now.
"Class size is limited," said Lener.
Classes are added so it is important to check Funky Fins online for availability. The cost is $20 per hour per program.
For more information, scan the Funky Fins QR Code or call 203-512-4936.