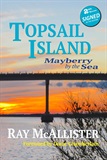 Acclaimed author of Topsail Island, Mayberry by the Sea, coming to Missiles and More Museum July 22, 1-3 p.m.
TOPSAIL BEACH – The Historical Society of Topsail Island and the Missiles and More Museum will welcome Ray McAllister, author of
Topsail Island, Mayberry by the Sea,
in an event sponsored by Pender County Tourism. Accompanying McAllister on the book signing adventure is his daughter, Lindsay Zarse, a noted children's author who features Topsail Island too.
"The Missiles and More Museum offers both Ray's and Lindsay's books at the museum," said Tammy Proctor, Pender County Tourism Director. "We're pleased to have them here at Missiles and More for a book signing of Ray's recently released second edition of
Topsail Island, Mayberry by the Sea
."
This is no mere republishing. The new edition features larger pages and photographs, as well as more than 100 pages of new material – plus a foreword by the renowned author Diane Chamberlain.
The award-winning Topsail Island shares the history, people, and continuing allure of the beloved North Carolina island with the small-town feel. Here are stories of the island's top-secret missile program, the mysterious "Gold Hole," and monster hurricanes Hazel, Bertha, and Fran. Here are giant sea turtles, and a traveling bear, plus old-time fishing piers and beach cottages with whimsical names. Here are vacationers, picture takers, surfers and fishermen, and musicians. Here are the many who share their love of Topsail.
The new edition adds the story of the iconic Swing Bridge and its replacement by a sweeping modern bridge, the devastation brought by Hurricane Florence and a pair of large fires, and the continuing "Topsail" feel nourished by small-town shops and festivities. Here, too, is an expanded story of the historic Ocean City "Black beach," and newly presented stories of the massive whale carcass dragged to Topsail's shores, an unexpected tornado, and the century-old mystery of the captain found inside his wrecked ship, a bullet through his head.
Zarse, a high school teacher authored
The Magic of Topsail Island
,
Missing! A Topsail Turtle Tale
, and
Pirates on Friday
.
McAllister and Zarse will sign books at Missiles and More Museum on July 22, from 1-3 p.m. Missiles and More Museum is located at 720 Channel Blvd. in Topsail Beach. The museum is open for tours. Admission is free and donations are accepted.