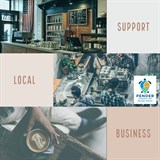 The Governor of North Carolina announced on February 24, 2021, that he is lifting the modified stay-at-home order, which included a curfew from 10 PM to 5 AM. Executive Order 195 signals the easing of restrictions in NC.
Within the parameters of this order, our tourism businesses are open to visitors and community members with restrictions in place and recommendations on operating.
This means that our food & beverage establishments are seating customers, our retail shops are open, and many attractions, and services are welcoming guests.
Executive Order 195 Highlights:
10 PM to 5 AM curfew is lifted starting February 26, 2021
9 PM to 7 AM on-site alcohol sales probation is eased; alcohol can now be served on-site until 11 PM
Capacity restrictions for meetings and events at hotels, convention centers and event venues remain at 30% but increase from 100 people to 250 people, whichever is less
Bars can open at 30% or 250 people for indoor service, whichever is less
Indoor gathering limits are increased to 25 people, and outdoor gathering limits remain at 50 people
Allowance of Cocktails To-Go will continue through March 31
Outdoor dining has been extended through March 31
Most all Pender County restaurants are open to patrons. Curbside & pick-up ordering is still available at most locations. Check-out the
Eat
section of our website for area restaurant listings!
Face masks are to be worn while entering the establishment while walking to your seat, and when leaving, but once you are seated at your table you may remove your mask.
Check out our Events Page for listings of events.