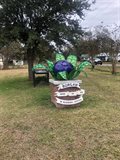 BURGAW – Pender County's GIS mapping department pulled together a wealth of information from Pender County Parks and Recreation and Pender County Tourism to create an interactive Web-based map.
The map shows parks, trails, natural areas, community centers, and places of public interest managed by different agencies.
"Whether you want to swim, go boating, see a museum, or experience some history, this portal can help you and find more information about where you want to go," said Michael Dickson, of the GIS Division of the Information Technology Services department. "If you live here or if you are visiting, see what beautiful Pender County has to offer today."
Featured on the map are walking trails, including the Mountains to Sea Trail, the North Carolina Birding Trail, and more. Also featured are boat accesses and historical sites.
"There's so much to see, do, and experience in Pender County," said Tammy Proctor, Pender County Tourism director. "Use this map today to explore Pender County."
Click on this link to view the map.
https://pendercountync.maps.arcgis.com/apps/Shortlist/index.html?appid=67d9430cee834f3d80bd2e1319026bd0
.