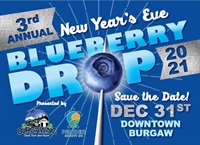 Virtual New Year's Eve Blueberry Drop planned for Burgaw
BURGAW – The Town of Burgaw, Pender County, and the North Carolina Blueberry Festival welcome the return of the annual New Year's Eve Blueberry Drop on Dec. 31.
"The 2019 Blueberry Drop was another huge success," said Cody Suggs, Burgaw Parks and Recreation director. "Although the event will not be in person this year, we are pleased to be able to continue this tradition with this year's event being brought to you virtually."
The virtual event will feature Burgaw native and WWAY newscaster, Jeff Rivenbark, as the event host. The virtual event will allow viewers to enter for gift cards and prizes, as well as enjoy a live band performance by the British Invaders. Of course, the lighted Blueberry Drop will take place at 7 p.m. to cap off a fun filled New Year's Eve.
"We are all celebrating the holidays differently this year, however we can still celebrate it together," said Suggs. "Most importantly we wanted to continue to bring you a fun, family-oriented way to ring in the New Year."
The fun will begin at 6 p.m. and the blueberry drop will take place at 7 p.m., midnight Greenwich Mean Time. There will be many ways to watch this year's event. Tune in at
burgawblueberrydrop.com
"We're pleased to partner once again with the Town of Burgaw and the NC Blueberry Festival on this annual event," said Tammy Proctor, Pender County Tourism Director.
For more information call Burgaw Parks and Recreation at 910-300-6401.