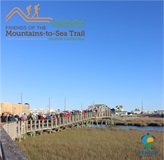 Today is #NationalTakeAHikeDay!

Hop on one of Pender County's many trails like the statewide
Mountains-to-Sea Trail or Visit Moores Creek National Battlefield
and hike the same path that revolutionary soldiers did.
Visit the Town of Burgaw and hop on the Osgood Greenway and Urban Trail and walk past historic sites and famous filming locations. Or if you're looking for something more adventurous check out the
North Carolina Birding Trail or go for a hike in the Holly Shelter Game Lands.