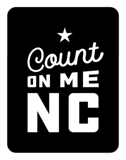 Our goal is to get all our businesses registered with this statewide program!
Statistics show that businesses are more successful if their customers feel safe in their establishments.
Join us to learn how the Count On Me NC program can benefit your business!
Count On Me NC is a public health pledge and online free curriculum/course that once completed, gives businesses a logo and sign they can display at their business to show customers they are educated and following social distancing and health guidelines.
#CountOnMeNC
, to provide a safe and inviting place for those who work, live, visit, dine, & shop.
Visit
countonmenc.org
to find out how.