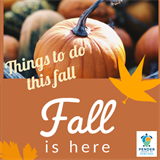 Pumpkins and crisp cool weather are sure signs that fall has arrived. We have created a list of things to do this fall:
Visit a farm & pumpkin patches
Visit a Farmers' Market
Hike or Walk the MST
Visit Moore's Creek National Battlefield
Visit the NC Birding Trail
Kayak
Visit our parks
Beach sweeps, volunteer to clean up the beaches
Get Coffee and Take the Hometown Hollywood Film Tour
Drive In Movies
2020 Ghostwalk, Drive In Style
Halloween Drive Thru Trunks & Treats
Bear Ridge Farms Inc.
Local, family-owned and operated farm offing a variety of products such pumpkins, ferns, plants, peanuts, and produce.
270 Old Maple Hill Rd.
Maple Hill, NC 28454
(910) 289-1722
www.facebook.com/BearRidgeFarm
Sonny Rowe Farm & Market
Our farm has the freshest produce. Come shop for pumpkins, ferns, and peanuts! Fresh produce year-round. Home of Carolina Sweeties Strawberries, jams, preserves, pickled veggies and more!
13538 NC Hwy 210
Rocky Point, NC 28457
(910) 675-9971
https://www.facebook.com/Sonny-Rowe-Farm-Market-641670166479952
Humphrey Farms, Inc,
A family farm offering pumpkins and mums, pumpkins, honey, Indian corn, peanuts.
The 150-year-old tobacco barn is being renovated for special events and will become the Mill Branch Trading Post and will eventually showcase all things local, offer wagon rides, see our cattle operation and have live mill demonstrations. Until then we invite you to visit our Pumpkin Patch. Be sure to take lots of pictures of new memories you make with us.
6611 NC Hwy 53
Burgaw, NC 28425
(910) 524-7455
facebook.com/HumphreyFarmsInc
Clover Meadows
A small family-owned and operated farm providing Pender County with pumpkins in the fall.
2238 Henry Brown Rd.
Burgaw, NC 28425
(910) 599-5553
Old River Farms
Old River Farms is a fully functional working farm, with a Garden Center. Our focus is to provide our community with the highest-quality vegetable and bedding plants, while also educating our visitors on the benefits of growing their own food.
8711 Old River Rd.
Burgaw, NC 28425
(910) 620-6351 or (910) 616-5884
www.facebook.com/Old-River-Farms
Pender Pines
Fall is in full swing down here at Pender Pines. Come checkout our pumpkins, gourds, Cornstalks, plants, and grab a mum for your mom! Don't forget your mask! The Pender Pines kids' maze is open! Pender Pines is a premier garden center, located in Hampstead, NC, just minutes from Topsail Island on the southeast coast and halfway between Jacksonville and Wilmington.
20949 US Highway 17 N
Hampstead, NC 28443
910-270-2706
Rotary Pumpkin Patch
The Rotary Clubs of Surf City and Coastal Pender will be operating the 2nd Annual "Pumpkins for a Purpose" PUMPKIN PATCH October 17 through October 31, 2020, at Treasure Coast Landing, next to Shipwreck Point Miniature Golf. In addition to a large variety of pumpkins, the Patch will feature a Photo Op Station. This family friendly event will be open the following hours:
SATURDAYS: October 17: 1-7 PM, October 24: 10 AM-7 PM, October 31: 10 AM-5 PM
SUNDAYS: October 18 and 25: 10 AM-6 PM
MONDAY-FRIDAY: October 19-23 & 26-30: 12 Noon-7 PM
We are selling "Pumpkins for a Purpose"! All proceeds will go to fund local causes that we support
A large variety of organic pumpkins will be available including, white, green, mixed, orange, gourds, and elf houses!
Our Rotary Clubs exist to serve the needs of our local community and the world!
Farmer's Market at Poplar Grove
For the finest and freshest that North Carolina has to offer come on out to Poplar Grove Wednesday mornings and see what's fresh at Cape Fear's favorite Farmers Market. Everything is locally grown or made. The market carries a fresh selection of in-season fruits and vegetables, plants, cut flowers, eggs, cheese, sausage, crab cakes, baked goods, nuts, pickles, herbs, honey, wine amp; an assortment of beautiful arts and crafts.
10200 US Hwy 17 N
Wilmington, NC 28411
(910) 686-9518
www.facebook/FarmersMarketPoplarGrove Farms
NC Birding Trail
The NC Birding Trail emphasizes the importance and conservation of birds that are native to NC. In Pender County, you will see Birds and Waterfowl that are native to Coastal NC, specifically those who are found in Pine/Hardwood Forests, Floodplain Forests, Longleaf Pine Forests, Savanna and Wetlands. For more information be sure to visit the website. Featured on the MST, Seg. #14 located at mountainstoseatrail.org/segment/14/ at the Holly Shelter Boating Access.
7271 Shaw Hwy
Pender County, NC 28445
www.ncbirdingtrail.org
www.facebook.com/NCBirdingTrail
MST
The MST traverses Pender County, through the Holly Shelter Game Lands, winding through neighborhoods in Surf City and along the shoreline into Onslow County's North Topsail Beach. Segment 14, Land of History, begins at Singletary Lake State Park in Bladen County and ends at Holly Shelter Gamelands. It features Pender County attractions like Moores Creek National Battlefield, Historic Downtown Burgaw, the Canetuck Community Center, site of one of the last standing Rosenwald Schools for African Americans and more. Segment 14 can be found at mountainstoseatrail.org/segment/14/. Segment 15 picks up in the Holly Shelter Gamelands and ends in Onslow County. This Segment features the vast ecosystems of the Holly Shelter Game Lands and showcases Topsail Island, the Karen Beasley Sea Turtle Rescue and Rehabilitation Center and the historical towers from NASA project Bumblebee. Information on Segment 15 can be found at mountainstoseatrail.org/segment/15/. For more info please visit the MST website listed below.
Pender County
Burgaw, NC 28425
mountainstoseatrail.org