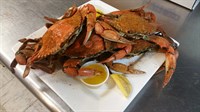 Seafood Trail
Our Guide to fresh seafood in & around the county!
In the mood for fresh caught seafood? Are you a lover of seafood and shellfish?
Pender County offers an array of seafood & culinary delights, with restaurants that range from casual dining to family owned lunch counters to waterfront seafood or to take home.
Have your pick from our many seafood restaurants that are influenced by your traditional favorites or recipes & cuisine from around the region, while always served with southern hospitality!
With our coastal communities, Hampstead is also one of Pender County's most growing communities which prides itself on being known as the "Seafood Capital of the Carolinas," with a large welcome sign and home to the NC Spot Festival! Every year, the residents of Hampstead celebrate the history of the Spot with the North Carolina Spot Festival.
With our Seafood Trail, we guarantee that you will find a place to suit your every taste bud found right here within Pender County!
Visit the Seafood Capital of the Carolina's, Visit Pender!
---------------------------------
Fresh frozen seafood to prepare at home ?
Visit Our Seafood Markets!

Atlantic Seafood Co. Retail Market
Atlantic Seafood Retail Market specializes in North Carolina fresh and frozen seafood including oysters, clams, live lobsters and various local fish fillets. We can pack orders for travel. Ice and fishing bait also available.
95 NC Hwy 210
Hampstead, NC 28443
(910) 270-4446
Perryman Farm and Seafood
Perryman Farm and Seafood is a small urban farm with a variety of goods and services to offer. Dairy products, goat cheese, eggs, fresh sustainable meats and locally harvested seafood, seasonal produce, local honey. With a humble dairy and seafood operation, they provide fresh and local products as well as interactive and educational experiences for our community.
115 Crystal Ct.
Hampstead, NC 28443
(910) 270-3036
Surf City Crab
With retail and wholesale seafood sales they have local and imported seafood of all varieties such as fish, shrimp, shellfish, crabs etc.
508 Roland Ave.
Surf City, NC 28445
(910) 328-5004
Topsail Steamer
Topsail Steamer offers Seafood Steamer Pots prepared with fresh local seafood, meats, veggies and home-made spices to take home, steam, eat and enjoy! Their Bay Buckets come in a "one-time" use pot with "easy to follow" instructions. Pick from one of 5 signature pots or build your own. No Toil Just Boil!
303 South Topsail Dr Unit B
Surf City, NC 28445
(910) 328-2645
Thomas Seafood, Produce, Bait Tackle
Family owned and operated for over 50 years they have a grocery store with fresh produce and seafood with everything you need for a fresh seafood meal.
14210 Hwy 50
Surf City, NC 28445
(910) 328-4361
Dining in?
Eat In restaurants ranging from casual dining to deck seating and waterfront service!
Shuckin' Shack Oyster Bar of Surf City
A place where friends & family can enjoy a great meal of primarily oysters & shrimp. The Shuckin' Shack is a place that both locals & tourists can find a great time.
13460 NC Hwy 50, Suite 101,
Surf City, NC 28445
(910) 803-2037
Buddy's Crab House & Oyster Bar
For decades "Buddy's" has been serving delicious seafood, steaks, chicken, ribs, burgers, cocktails and more on the beaches of North Carolina. You are invited to bring your family and friends to eat and relax while overlooking the great Atlantic Ocean from their open-air dining porches!
101 Roland Ave.
Surf City, NC 28445
(910) 328-1515
Sears Landing Grill and Boat Docks
Drive up or drop anchor at this sound side restaurant and enjoy fresh grilled fish, soft-shell crabs, peel-and-eat shrimp or sandwiches. Diners can sit inside or laze about on the waterfront porch and enjoy the view. The restaurant is open for breakfast, lunch and dinner year-round.
806 Roland Ave.
Surf City, NC 28445
(910) 328-1312
The Crab Pot
Southern low-country and Caribbean cuisine are what you'll find at the Crab Pot. Specialties of the house include spicy seafood gumbo, jerk chicken, ribs smothered in sauce, oysters and Key lime pie. The screened-in dining room and bar offers great old-time Topsail fun. Food can be packaged to go, and a children's menu is available.
508 Roland Ave.
Surf City, NC 28445
(910) 328-5001
Beauchaine's 211
A great place to relax for a drink, date night, family dinners, or celebrations! Reservations are strongly suggested. They are a waterfront location serving up fresh seafood, and more. Enjoy your favorite dish with a bottle of wine from their extensive list while watching the sunset over the Intracoastal waterway.
211 S Topsail Drive
Surf City, NC 28445
(910) 328-1888
Daddy Mac's Beach Grille
This oceanfront restaurant is a favorite with locals! The restaurant's ocean views and covered deck, warm wood tones and terra cotta color scheme create an instantly inviting atmosphere. Daddy Mac's serves steaming bowls of Cajun jambalaya, tender Caribbean crab cakes, fresh grilled seafood, tasty ribs, pasta and steaks. Daddy Mac's menu features appetizers, soups, salads and sandwiches, and daily specials are offered. A children's menu is also available. The restaurant has an elevator and is handicapped accessible. Daddy Mac's opens nightly at 5 PM.
108 N Shore Drive
Surf City, NC 28445
(910) 328-5577
Breezeway Restaurant
The Breezeway Restaurant features delicious Southern Style Seafood as well as "Surfer's Chicken and a grilled Rib Eye. Long famous for our fried seafood and hush puppies, we offer many other choices including broiled and grilled entrees as well as pastas. Some other favorites include our own house made Seafood Lasagna made with shrimp and crab meat and the Breezeway Blue Crab Cakes. We offer nightly specials, a children's menu, and a convenient take-out service. Enjoy indoor dining overlooking Topsail Sound ... the best water view in Topsail Beach! OPEN SPRING, SUMMER, FALL.
The Breezeway Restaurant where each meal is freshly prepared, and the sunsets are free!
810 S Anderson Blvd.
Topsail Beach, NC 28445
(910) 328-4302

The Greater Pender County Area,
Some of our favorite seafood restaurants are located within the Pender Greater Area and these are restaurants with some of your favorite seafood options!
Hollands Shelter Creek II Restaurant and Bar
A longtime favorite for seafood! Visit Holland's now located in Holly Ridge at the Pender County line. Once located in Burgaw we serve up Cajun and Country cooking. Try our famous Frog Legs or creole Catfish. We also serve stews and chowders. We also have all your favorite country & seafood dishes.
756 East Ocean Rd. Holly Ridge
Greater Pender Area
(910) 803-2224
The Crab Shack
Specializing in Blue Crabs. Located right at the Pender County line on Hwy 17. They offer a full menu including steamer pots, blue crabs, oysters, seafood platters, great burgers and much more.
55 Scotts Hill Loop Rd Wilmington
Greater Pender Area
(910) 319-0688
The Sailfish Restaurant
The Sailfish at Marsh Creek Marine is a locally owned restaurant and bar located directly on the intracoastal waterway offering full menu, bar and local seasonal steamed seafood. The Sailfish is located at the beautiful Marsh Creek at Scotts Hill Marina just outside of Hampstead and serves the freshest food with the best prices. Come and take in the views and enjoy a good meal.
2570 Scotts Hill Loop Rd. Wilmington
Greater Pender Area
(910) 406-1055