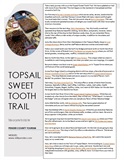 Take a tasty journey with us on the Topsail Sweet Tooth Trail. We have updated our trail with more of your favorites! This trail begins on the mainland in Hampstead and then onward to Surf City.
Our first stop is
Burney's Sweets and More
which serves cakes, donuts, sandwiches for breakfast and lunch, and their famous Cronuts filled with tasty creams and fruit gels! You must taste their cronuts! Then let's be sure to stop at
Burry Chocolates
. This new locally owned and operated business will delight your sweet tooth with their
handcrafted American chocolates
.
Then we are on to the next stop,
Mia's Marketplace
. Yes, this locally owned and operated shop features beautiful clothing, home décor, and jewelry, however, take a hike to the rear of the shop to their fabulous candy shop. Do you remember Penny Candy? Mia's offers a wide variety of unique candies, in addition to chocolates and saltwater taffy.
Just a few doors down from Mia's Marketplace in the Treasure Realty shops is
Coral Cottage Boutique.
Becky and her staff feature delicious cookies and sweet treats.
Follow your sweet tooth over the Surf City Bridge and travel north on North New River Drive. At the corner of Roland Ave is
The Bakery at Xanadu Market
where you will find baked goodies, including cakes, muffins, croissants and more.
Back to North New River, to the right is
Snow Factory
. This unique rolled ice cream is incredible to watch being prepared, but when you select your own toppings, it is superb.
Be sure to detour one block over to
Sugar Island Bakery
on N. Topsail Drive where you will find out of this world baked goods.
Across from Sugar Island is a shopping district with two stops, a favorite of everyone's is
Pelican's Snoballs of Surf City
and on to the next stop which is
Topsail Island Popcorn Factory
. This shop features sweet and savory popcorn in a myriad of flavors. Can't decide? No problem! Take home a tin!
Next stop,
The Daily Grind Surf
City. This shop offers a variety of items fresh Donuts, Espresso, Specialty Coffees, Iced Coffee, Cold Brew, Lattes, Iced Lattes, Health Smoothies, Frappes, Bagels, Muffins, Cakes, Ice Cream & NEW Italian Ice! We also have the largest deck on the Island & live Music!
Across North New River Drive is the
Topsail Island Trading Company
. While they are located only a few blocks from the beach, they will tell you, "What beach? I'm here for the fudge!" and you will agree when you sample any flavor of their fabulous fudge!
Just a little further north, visit
Bumblebee Gifts
. They have a great selection of chocolates and you can't leave without buying the sea salted caramel!
Near Bumblebee Gifts is
Island Delights Restaurant
. While this 50s style diner features out of this world burgers, they serve banana splits, sundaes, and ice cream. Be sure to drop a quarter in the jukebox while you're there!
We're going to loop back toward the beach to
Island Crush Italian Ice
where you'll find flavorful refreshment. Go to the Beach access and turn right to
Tiki Turtles Ice Creams and Mocktails
Now we're going to do an about face and head south. On the trek we are going to stop at
Fractured Prune
. This shop in Surf City offers a wide selection of flavors. The donuts are warm and tasty!
Now, let's cross beachward to
Bahama Mama's of Surf City
, let's watch the waves & enjoy an icy sweet treat.
Now, let's hike on down to the Town of Topsail Beach. We're traveling to
Twisted Sisters Bake Shop
where you will enjoy pie in a jar, cakes, and more. Double back now and we're going shopping at
Quarter Moon Books, Gifts, and Wine Bar
a warm and inviting independent bookstore with goodies, wine, coffee & more. Kick back from your trek on their deck.