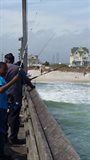 Yes, Pender County has beautiful beaches. Yes, it's fun to build sandcastles and swim in the surf, but there is so much more to discover in the great outdoors of Pender County. During every season of the year, there are adventures to discover.
Let's start with an
adventure
– a marine adventure for the entire family.
Ecological Marine Adventures
offers groups of all ages an opportunity to learn about the ocean, the critters in the water, and more. They have virtual tours, beach adventures, lessons in stand-up paddleboarding, and more. It's fun for the entire family. Call Ecological Marine Adventures today at
910-515-9751
or visit them online for a list of classes at
www.ecologicalmarineadventures.com
Hiking
Pender County is crisscrossed by several hiking trails. The
Mountains to Sea Trail
traverses Pender County from the Bladen County line to the Onslow County line. Pick a starting point. The trail follows the Osgood Canal in Burgaw, Holly Shelter Game Lands, through Surf City and up the beach to North Topsail Beach. Pick a segment on the MST website,
https://mountainstoseatrail.org/
, and take a hike!
The
East Coast Greenway Trail
, which runs 3,000 miles from Maine to Florida travels down Topsail Island to Surf City, along the Intracoastal Waterway to County Club Drive and southward along US Hwy. 17. For maps go to
www.greenway.org
.
The
Abbey Nature Preserve Trail
, located next door to Poplar Grove Plantation, is 67 acres of undeveloped land. There are two walking trails, a wooden walkway, and a 10-acre pond. It's perfect for birdwatching. Visit
www.poplargrove.or/nature_trail
.
The
Osgood Canal Greenway
, a 2.2-mile loop of concrete and asphalt loops around the town of Burgaw. Some areas of the trail are wooded, and some are in historic downtown Burgaw.
The
NC Birding Trail
traverses along the North East Cape Fear River. There are two sites marked on the trail's website, both in the Holly Shelter Game Lands – at the Greentree lot and the lot on NC Hwy 17 near the Baptist Church. Visit
https://www.ncbirdingtrail.org/sites/
for details.
One of our favorite walks in the historic trail in
Moores Creek National Battlefield
. Most of the trail is paved. In less than a mile, hikers will view the only monument dedicated to women of the Revolutionary War, details of the battle, which is the first NC Patriots' first victory over the Loyalist (also mentioned in the Outlander series), and the bridge over Moores Creek. It's free. This trail is also a part of the Mountains to Sea Trail. For details go to
https://www.nps.gov/mocr/index.htm
.
Horseback riding
Desperado Horse Farm and Trail Rides
is open seven days per week by appointment. They specialize in providing rides for all ages and all levels of experience. Walk, trot, or gallop on the 500 acres of trails. Call Desperado Horse Farm at
910-617-3563
or visit the website at
www.desperadohorsefarm.com
.
Shingleton Farms Equestrian
offers group and family outings on more than 400 acres of riding trails. Call
910-619-7104
or visit them online at
www.shingletonfarms.com
.
Miniature Golf and Putt-Putt
Pender County is home to two family fun mini-golf courses –
Shipwreck Point Golf
and
Patio Playground.
Shipwreck, located at the corner of NC Hwy 50 and Charlie Medlin Drive, resembles a tropical pirate hide-out. For details call
910-329-4653
or visit them on Facebook at
www.facebook.com/ShipwreckPointMiniatureGolf
.
Patio Playground
, located in Topsail Beach, is the only putt-putt on the island. It is beautifully retro, a 1955 putt-putt which is family friendly. They sell ice cream; operate an arcade and they play oldies but goodies music. Their phone number is
910-616-2814
. Check them out on Facebook at
www.facebook.com/Patio-Playground
.
Fishing
Regardless if you are inland Pender or on the shores of Topsail Island, there are plenty of fishing opportunities in our county.
First, let's start with pier fishing.
Surf City Ocean Pier
and
Jolly Roger Pier
are perfect for folks who are serious about their catch and those who just want the experience of tossing in a line. Both owners of the piers are accessible and always happy to serve the newcomer. For information about Surf City Pier, call
910-328-3521
or visit
www.surfcityoceanpier.com
. Located in Topsail Beach, Jolly Roger Pier can be reached at
910-328-4616
and information can be found on the website at
http://www.thejollyroger.com/
.
If you are looking for a fishing charter, call Chris at
East Coast Sports and Topsail Charter Fishing
. He will tailor your adventure to your specific needs and age group, from the Gulfstream to the Intracoastal Waterway. Call
910-328-1887
or visit online at
www.eastcoastsports.com
.
A&B Saltwater Adventures
, has more than 20 years on the water. They offer boating and fishing excursions. Call them at
910-915-5256
or see them online at
www.absaltwateradventures.com
.
Topsail Island Tours
on the
Queen Jean
is a 70-ft. party boat that offers half day fishing trips for the entire family – an adventure that children love. Take an evening charter and enjoy a relaxing sunset cruise. There's a galley onboard or bring your own refreshments. Cruise on Topsail Sound from the historic Assembly Building in Topsail Beach. Call
910-328-3474
or make a reservation online at
www.fishtopsail.com/queenjean
You don't need a charter to drop a line into the Northeast Cape Fear River, the Black River, or any number of our creeks.
Shelter Creek Landing
, located at 12380 Shaw Hwy and managed by the NC Wildlife, is a great spot for catfish, largemouth bass, and sunfish. Another fishing spot is
Miller's Pond
, a Pender County Park, located at 12762 US Hwy 117 in Rocky Point. There's also a kayak launch too.
Kayaking, Paddle boarding, and Surfing
The Intracoastal Waterway is perfect for kayaking and stand up paddle boarding (SUP). Pender County has several guides and rental companies who provides a fun experience on the ICW.
Herrings Outdoor Sports
has a launch in its own backyard. They offer kayak tours where a paddler can see snowy egrets, crabs, fish, and the marshlands. Visit the website at
https://www.herringsoutdoorsports.com/
.
50 South,
located on S. Topsail Dr. in Surf City, offers rentals of kayaks, surf boards, stand up paddle boards and bikes (as well as body boards, beach chairs and beach umbrellas for when you want a break on the beach). Their phone number is
910-328-7911
and the website is
www.surf50south.com
.
If you own a kayak and you want more peace and quiet, launch at
Moores Creek National Battlefield
and explore Moores Creek in Currie.
There's a reason Surf City is named Surf City. Topsail Island is a good place to catch a wave (just don't go near the piers)
. Surf City Surf School
offers lessons for beginners and beyond. Stressing safety, students feel comfortable and before you know it, they are stoked! Call
910-616-2280
or online at
www.surfcitysurfschool.com
.
Onshore Surf Shop
offers lessons on paddle boarding and surfing. Equipment rentals are also available. Call
910-328-2232
or visit them online at www.onshoresurfshop.com.
Boat Cruise and Tours
If you have no desire to fish or kayak, and you just want to sit back and relax while someone else takes the helm, there's several companies who will grant your wish.
Tuck's Water Shuttle
will provide tours and will shuttle you to Lea Island. Tate Tucker is a native and he points out interesting landmarks and wildlife. Call Tate at
910-616-7106
or message him on Facebook at
www.Facebook.com/TucksWaterShuttle
.
Tiki Tours
offers cruises on two different boats – the Tiki Time or the Tiki Queen. Both are perfect for a relaxing family adventure. The guided tour along the Intracoastal Waterway highlights a variety of sea life (watch for dolphin!) and more. Call
910-650-3223
or check them out online at
www.TikiToursNC.com
.
For an afternoon and unique tour, jump on the
Capt. J.N. Maffitt
in downtown Wilmington for a ride up the Black River. This unspoiled region is brimming with wildlife – gators, bears, and more. Call Cape Fear River Boats at
910-343-1611
or book online at
www.cfrboats.com
.
Topsail Boat Rentals
offers an island tour, but visitors may also rent a boat to explore the waterways, creeks and bays. Call them at
910-833-2273
or online at
www.topsailboatrental.com
.
If you want to take the helm, check out
Aquaholics Boat Rentals
in Surf City for half, full and multi-day rentals. Call
910-231-1738
or see the rentals at
www.aquaholicsboatrentals.com
.
Surf City Boat Rentals
offers adventures on the water with reasonably priced rentals. Call
910-352-2171
or go online to
www.surfcityboatrentals.com
.
If a boat is too cumbersome, try the speed of a jet ski.
Surf City Jet Ski Rentals
offers rentals and guided tours. Call
910-899-8606
or book online at
www.surfcityjetskirentals.com
.
Down on the Farm
Perryman Farm & Seafood
is Pender County's only registered dairy farm. They offer milks, goat cheeses, feta, local honey, jams, and more. They are also commercial fishermen, farming the local, in-season, seafood. Call
910-270-3036
or visit online at
www.facebook.com/perrymanfarmandsea
.
Old River Farms
, located 8711 Old River Rd., offers educational field trips on their working farm. They also offer a garden nursery and a venue for weddings and special events. Call
910-616-5884
or visit online at
www.oldriverfarmsnc.com
.
Ashton Farm Summer Day Camp
is a historic plantation that has developed summer camps for children to learn and appreciate nature. Call them at
910-259-2412
.
Fowler's Farm
, located at 2118 Old Savannah Rd., offers visitors a family day on the farm to meet and feed the animals, take a fieldtrip, and more. Call them at
901-297-5214
. Check out their Facebook page at
www.facebook.com/FowlersFunnyFarm
.
Humphrey Farms, Inc.
is a renovated, 150-year old tobacco farm. They offer wagon rides, a live sawmill demonstration, see the cattle and shop in the Mill Branch Trading Post. Call
910-524-7455
or email
humphreyfarmsinc.@gmail.com
for details.
Bear Ridge Farms Inc
is a local, family-owned operation offering fresh produce and more. Take the family to see where fresh is grown. Call
910-289-1722
or see their Facebook page at
www.facebook.com/BearRidgeFarm
.
You can't say "farm" in Pender County without thinking about blueberries. We're one of the leading producers of blueberries, so visit one of these blueberry farms:
Murray Blueberry Farm
(
910-259-4285
),
Newberry's Blueberries
(
910-259-7436
),
Shaken Creek Farm
(
910-540-4611
),
Ivanhoe Blueberry Farms
,
Inc.
(
910-532-2880
), and
Carol Sue Blueberry Farm
where visitors can enjoy U-Pick or pre-packaged (
910-520-6629
).
Golfing
Pender County is home to two excellent golf course –
Olde Point Country Club
and
Castle Bay
Country Club
.
Olde Point
is a matured 18-hole championship course framed by woodlands, scenic lakes, and featuring 419 Bermuda fairways and bentgrass greens.
Castle Bay
is a challenging Scottish-links style 18-hole championship course. Both are affordable and both will test your skills. Visit online at
www.oldepointgolf.com
or
www.castlebaycc.com
.
If you just want to practice you drive,
visit Grand Oaks Driving Range
at 536 Pine Village Dr. They promise you will fall in love with golf after practicing your drive, short game, and putting. Call
910-673-3383
or visit online at
www.golfingrockypoint.com
Bicycle the island
Herrings Outdoor Sports
(
https://www.herringsoutdoorsports.com/
),
OnShore Surf Shop
(
https://www.onshoresurfshop.com/
),
South End Outfitters
(
http://southendoutfitters.com/
) and
50 South
(
https://www.surf50south.com/
) rent bicycles to peddle the sandy beach. If you want to rent a bike with an electric kick call Lewis Realty's
Mutiny eBikes (
https://www.facebook.com/mutinyebikes
).