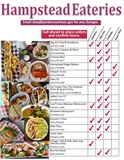 What are you craving? Need a break from cooking here are some great places in Hampstead to order take out, delivery or to go! Also check out places in Burgaw, Surf City and more to satisfy those cravings!

Burrito Shak is our newest addition. They just opened back up for take out today! Check them out and other restaurants that are providing take out, delivery and curbside!

Call ahead and pick up at the curb!