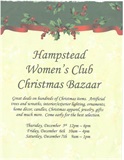 The Hampstead Women's Club is returning with their biggest holiday sale of the year on Dec. 5, 12 - 6 p.m., Dec. 6, 10 a.m. - 4 p.m. and Saturday, Dec. 7, 9 a.m. - 1 p.m.
Throughout the year, as the club receives holiday-themed donations, they save those speciality buys for this big event.
The Christmas Bazaar is such an area favorite, known for great buys, shoppers line up at the doors on Thursday. Throughout the three day event, more sale items are placed on display.
The bazaar features everything from Christmas trees, to jewelry and gifts.
The Hampstead Women's Club, celebrating 60 years of giving, is located at 14435 US Hwy 17 in Hampstead.
All proceeds go toward scholarships and local charities.