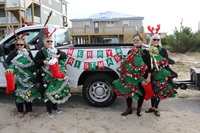 PENDER COUNTY – Dust off the sleigh and get ready to mark your calendars for holiday events. There's a tremendous amount of Christmas Spirit right here in Pender County.
We're going to list the events in chronological order. Several events kick off before Thanksgiving. There's a reason for that! This year Thanksgiving is late, leaving only two weekends in December for holiday events – not counting the third Saturday before Christmas, which is generally a traveling day.
So, strap in, here we go!
Nov. 9 -
Kids Fest, Town of Atkinson
– This is not a holiday event, but it is a family event to enjoy before the holiday season gets incredibly busy. Enjoy the fall. Enjoy the community spirit of Atkinson.
Nov. 16 -
Candlelight Tour at Moores Creek National Battlefield
– This annual event is a must do. Tour guides direct groups across the historic Moores Creek Bridge. By candlelight, actors set the drama of the first Patriot victory in North Carolina in the Revolutionary War. You must call Moores Creek National Battlefield to reserve your space. The telephone number is
910-283-5591
.
Nov 23 -
Town of Surf City Christmas Tree Lighting
– Enjoy the beauty of the lighted boardwalk along the sound in Soundside Park. Visit the Surf City Parks and Rec for details.
Nov. 29 -
Town of Burgaw Annual Christmas Tree Lighting
– on the historic Pender County Courthouse Square, enjoy Christmas carols and the arrival of Santa.
Nov. 29 -
Christmas in the Country
begins through the season – Located at Old Homestead Farm in Rocky Point, Christmas in the Country is a beautiful light display and more. It's a family favorite. Check out their Facebook page at
https://www.facebook.com/ChristmasInTheCountryOldHomesteadFarm
.
Nov.30 -
Shop Small Saturday - Shop Local!
Most shops and boutiques in Pender County are locally owned and operated. Remember to shop local where you will find unique gifts for giving.
Throughout the holiday season, Burgaw, Topsail Beach, and Surf City merchants, as well as our Hampstead businesses are going to host
Hometown Christmas
specials to encourage shop local. Keep your tax money in your county by shopping local.
Nov.30 -
Town of Topsail Beach Tree Lighting and Lighted Parade
– This is going to be two events merging into one fun-filled packed evening! The always popular Topsail Beach Christmas Parade is flipping on the Christmas lights. By moving the parade to before the annual tree lighting, families will enjoy a lighted Christmas parade, the arrival of Santa, a tree lighting in Town Center Park, music, and more. The parade will line up at 3:30 p.m. and step off around 4:30 p.m.
Dec.7 -
Town of Atkinson Christmas Parade
– This morning favorite will feature Old St. Nick, local organizations, and more on parade.
Dec. 7 –
Pender County Historical Society Burgaw Holiday Home Tour
– Tickets are on sale now. Tour beautiful and unique homes and buildings in Burgaw. For ticket information call the historical society.
Dec. 7 -
Historical Society of Topsail Island Jingle Bell Ball
– Tickets go fast on this elegant event. The Jingle Bell Ball is the historical society's holiday fundraiser. Go to their website for details.
Dec. 13 -
Christmas Movie in the Depot
– Burgaw Parks and Rec invite you to enjoy a holiday movie with your family in the historic train depot.
Dec, 14 -
Breakfast with Santa
- Welcome families and children in their pjs! Breakfast with Santa is a holiday tradition in Hampstead at the Hampstead Women's Club. Enjoy photos with Santa and more from 9 - 10:30 a.m.
Dec. 14 -
Santa's Workshop, Burgaw
– Another family favorite in Burgaw! Check out Burgaw's Facebook page for details.
Dec. 14 -
Burgaw Lighted Christmas Parade
– The famously beautiful Christmas Parade traverses Historic Downtown Burgaw.
Dec. 14 -
Topsail Chamber's Christmas Market and Flotilla
– Soundside Park in Surf City will feature local vendors and shops and a Flotilla not to be missed. Shop and Sail into Surf City.
Dec. 15 -
The Embers Christmas Show
, hosted by Pender County Parks & Recreation and Pender County Schools, Topsail High – The kings of beach music bring their Santa suits and Christmas trees for a very holly jolly show. This Christmas show has delighted audiences across the state. It's coming to Topsail High, thanks to the collaboration of Pender County Parks and Recreation and our school system. Ticket information is available online. Go to the Parks and Recreation Facebook page and purchase tickets online.
Dec. 31 -
New Year's Eve Blueberry Drop
, Burgaw – Ring out 2019 and Ring in 2020 with us in Historic Downtown Burgaw. The event begins at 5 with music from the Rivermist Band. The specially designed blueberry will drop at 7 p.m., which is midnight in Greenwich Mean Time. This family event will feature food trucks plus many of our businesses will be open to celebrate with us. Admission is free.
Be sure to visit the Facebook page
It's a Pender County Christmas
. Events, holiday craft shows, cantatas and more are listed on this holiday page.