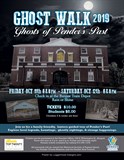 Southeast Tourism Society selects Pender's Ghost Walk as an 'STS Top 20 Event'
BURGAW - Southeast Tourism Society (STS) named Ghost Walk: Ghosts of Pender's Past as one of the STS Top 20 Events in the Southeast for October 2019.
Ghost Walk: Ghosts of Pender's Past, an annual event, is set for Oct. 11 - 12. It is an all-volunteer production featuring actors, sets, and tour guides. It is the collaboration of several organizations, including Moores Creek National Battlefield, Poplar Grove Plantation, Pender County Schools, Historical Society of Topsail Island, Pender County Historical Society, Pender County Library, Pender County Parks and Recreation, the Town of Burgaw, and Pender Arts Council.
The STS Top 20 Festival and Event Awards have highlighted programs around the Southeast since 1985. Travel industry experts select 20 events per month, and STS publicizes them throughout the United States. The complete list is published on two websites: Southeast Tourism Society and Travel Media Press Room.
This premier event attracts more than 1,000 people over the course of two days from North Carolina and beyond. There are more 100 volunteers from the Cape Fear Region that bring to life stories of pirates, historical figures and events, area hauntings, supernatural creatures and scenes from famous horror movies that were filmed in Burgaw.
"It's an honor to receive this recognition for our community," Joe Cina, vice-chair of the Pender County Tourism Development Authority, said. "None of this would be possible if it wasn't for the hard work that each member of the committee contributes in order to promote healthy attractions and events in our area."
"The Ghost Walk committee and our many volunteers are ecstatic to be selected as an STS Top 20 Event," Stephanie Key, Pender County tourism assistant and Ghost Walk artistic director. "We have a lot of fun but there are also countless hours of hard work that goes into planning a huge outdoor theater production."
"The Top 20 Festival and Event Program is celebrating 34 years of spotlighting the best festivals and events in the Southeast. Our goal is to provide well-deserved accolades for the dedicated event organizers and additional media exposure for their events," said Monica Smith, president and CEO of the Southeast Tourism Society. "The Southeast offers so many unique, year-round, opportunities for attendees to create memories and support an industry that is an economic generator for its community."
"The Ghost Walk has sold out each year," said Key. "In 2018 the Ghost Walk won the National Association of Counties Achievement award in the Arts, Cultural, and History category."
STS, founded in 1983 and headquartered in Roswell, Ga., is a non-profit organization dedicated to promoting travel and tourism within 12 states – Alabama, Arkansas, Florida, Georgia, Kentucky, Louisiana, Mississippi, North Carolina, South Carolina, Tennessee, Virginia and West Virginia.