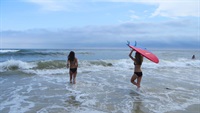 Wade into Topsail Island's Summer Adventures
PENDER COUNTY – While a relaxing day on the beach is nice, don't miss the opportunity to take a Summer Adventure on Topsail Island.
This is the summer to experience something new!
The Atlantic Ocean, the Intracoastal Waterway, and Pender County's rivers provide a watery playground.
There's no better way to enjoy Topsail Island than from the water – via kayak, boat, or paddleboard.
Here's a few suggestions (ssshh, and some insider tips too) that will make your summer an adventure to remember:
A&B Saltwater Adventures,
based from Bush Marina in Topsail Beach, offers fishing excursions. Run with a school of fish and bring home a whopper!
910-915-5256
.
Cruise or taxi to an uninhabited island with
Tuck's Water Shuttle
. Tate offers hour-long cruises or shuttle service. Insider's scoop: the best time to experience Lea Island is on Mondays, after the weekenders have left town!
910-616-7106
.
East Coast Sports
is an outfitter for all things outdoor. Book a charter boat, go fishing, clamming, crabbing on the sound. Or book an ocean charter to deep sea fish. Rookies are welcomed! They'll teach you how to fish or navigate a boat. Also check out
Topsail Charter Fishing
for a tailored excursion experience.
910-328-1887
.
Launch a kayak or paddleboard into the Intracoastal Waterway from the rear of
Herring's Outdoor Sports
. Guided tours are available.
910-328-3291
.
Onshore Surf Shop
offers kayaking, stand up paddle boarding and tours from Surf City to Goat Island. No group is too small or too large. Call George today!
910-328-2232
.
Surf City Surf School
offers surf instructions for toddlers to grandparents. They pride themselves on safety, but they are so much fun, you won't resist a lesson or two. They also offer paddleboard tours and rentals. Insider's scoop: have lunch as Shaka Taco after a morning lesson!
910-616-2280
.
Surf 50 South
has a team of helpful staff who will make your surfing, kayaking, or just bicycling down the beach a reality.
(910) 328-7911
Hop aboard the Tiki Time or the Tiki Queen for a perfect family ride down the Intracoastal Waterway.
Tiki Tours
Captain James grew up here and he can point out sea life, sandbars, waterfowl and more.
910-650-3223
.
It's the freedom of a motorcycle except the pavement is water. Take a jet ski ride with
Surf City Jet Ski Rentals
. They offered guided tours too.
910-899-8606
.
So, you know how to navigate a boat on the Intracoastal Waterway. You know the rules of safe boating. Why not rent a boat from
Surf City Boat Rentals
for a day of relaxing enjoyment on the water?
910-352-2171
.
Spinnaker Surf Shop
in Surf City offers surf lessons and they carry a wide selection of beach gear.
(910) 328-2311
The
Queen Jean
is a 70-ft. party boat that offers half day fishing trips for families. Private charters are available. There's no better way to see Topsail Beach than by boat!
910-328-3474
.
If you're a visitor on vacation or a local looking for a new adventure, these businesses offer you an experience in which you can boast to your friends, "Do you know what I did this summer?"