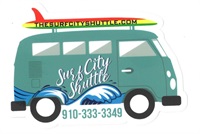 SURF CITY – A convenient transportation solution is rolling into town Memorial Weekend.
The Surf City Shuttle, a women-owned and women-certified business, will shuttle shoppers, diners, and beach goers around town.
"We started this business because we felt the service was much needed," said Michelle Kosinski, who started Surf City Shuttle with Devon Shirley.
Michelle and Devon, with their husbands, Rob and Eric, said they have tried calling services such as Uber and Lyft but the area is not well served by those contractors.
"We are not a party bus," said Eric Shirley. "We're not a taxi service at 2 a.m. We are a solution."
"We started this business for purely selfish reasons," chuckled Michelle. "We enjoy the music played at various locations in Surf City and it would be extremely convenient and safe if we could hop on a shuttle and visit another business."
"This is a business that offers a reliable transportation option," said Devon.
"We started this business because we felt the service was much needed," said Rob Kosinski. "When visitors arrive in town, this service will take them around without the stress of driving and trying to find a place to park."
Both couples are Surf City residents.
"We love Surf City and we want visitors to the area to love it as much as we do," said Devon.
Eric said the two shuttles are 15 passenger buses. They will make loops around Surf City – as many as 30 to 40 loops per day. They will offer a Mainland Loop and an Island Loop with more than 25 stops. The shuttles are outfitted to haul bicycles and beach chairs.
"This service is for locals and visitors," said Eric. "It's a fantastic way to throw back a few brews at one of our watering holes, dine at one of our terrific restaurants, or take the family for ice cream – without the worries of parking or waiting for a taxi. "
"It's about safety too," Michelle added. "There are no worries about drinking and driving. We live here. These are our streets and we want to keep them safe."
"We're pleased at the response we are receiving from Surf City and surrounding communities," said Rob. "We don't have public transportation, and this addresses a need in our community."
The Surf City Shuttle will offer a variety of passes- by day, week, monthly or seasonal. Children under the age of 12 ride free of charge with adults.
Hop on and hop off with Surf City Shuttle. Look for them at Bridge Days, May 18, at Soundside Park.
All services are available for purchase online at www.thesurfcityshuttle.com.