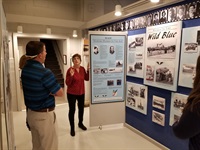 Pender County tourism welcomed NC Coast Host
TOPSAIL BEACH – Pender County Tourism, with the partnership of the Historical Society of Topsail Island, welcomed NC Coast Host to Topsail Beach.
NC Coast Host, which meets quarterly, conducted their annual meeting at the Assembly Building on May 2. From 10 a.m. - 2 p.m. the organization met with various media for advertising opportunities and two workshops.
In the evening, attendees and honored guests celebrated the NC Coast Host Tourism Awards. The awards were presented by region. John Wright, general manager and founder of Sanctuary Vineyards in Currituck, was presented the award for the Northern Region. The Central Region impact award was presented to Lee and Pat Walker who have worked to establish the Viet Nam Memorial Wall in Onslow County. The Southern Region award was presented to the City of Lumberton and the Lumberton Youth Baseball Association which won the bid to host the Dixie Youth Baseball World Series and overcame damage from Hurricane Matthew to host the series with much acclaim.
"These three winners impacted tourism along the North Carolina coast," said Tammy Proctor, Pender County Tourism director and this year's chairman of NC Coast Host.
NC Coast Host visitors had an impact on Pender County through their hotel stays in Topsail Beach, dining, and visiting our attractions.
"We couldn't have hosted NC Coast Host without the sponsorship of the Historical Society of Topsail Island," said Proctor. "The Assembly Building and the Missiles and More Museum fascinated our visitors."
Immediately following the meeting, many attendees visited the museum and the Karen Beasley Sea Turtle Rescue and Rehabilitation. Beach Shop Grill catered lunch and dinner to the rave reviews to the NC Coast Host attendees. Visitors also dined at Daddy Mac's Beach Grill. Roman Trophies created the nickel engraved identifications on the awards. The awards dinner featured local author, coach, and counselor Gail "Missy" Ostrishko Caswell as the keynote speaker. Linens from Shoreline Party Supply brought coastal color to the event.
"Our local businesses are helpful and made hosting NC Coast Host a pleasure," added Proctor.
NC Coast Host is a membership-driven organization that promotes all tourism-related businesses and attractions east of Interstate 95. Pender County Tourism is a member of NC Coast Host.