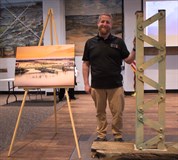 TOPSAIL BEACH – A piece of the Surf City Swing Bridge was presented to the Historical Society of Topsail Island (HSTI) for display in the Missiles and More Museum. The presentation by Topsail artist Jeff Wenzel, was made at the March 14 HSTI luncheon and lecture.
The 5-ft. steel truss and the wood base from the fender system are actual pieces from the iconic structure. The pieces were cut by Balfour Beatty and donated to the museum by Jeff Wenzel. Historical Society member Rick Stidley crafted the pieces into a unique display for the museum.
"I am thankful to the bridge contractor, Balfour Beatty, for making this a reality," said Jeff Wenzel, owner of Above Topsail Photography. "I am honored to be able to present a part of this iconic bridge to the Historical Society. The Swing Bridge was an important part of Topsail Island -- the gateway to paradise to many -- and it will be missed, but not forgotten."
The display will be proudly featured in the Missiles and More Museum for generations to enjoy.
The museum, which suffered damage from Hurricane Florence, has been revamped and opened for the season on April 15. The museum, housed in the Historic Assembly Building, 720 Channel Boulevard, Topsail Beach NC, opened in 1997 and expanded in 2005. Currently Museum displays include Operation Bumblebee, an expanded Natural History exhibit, two interactive media centers, a pirate exhibit, a Native American exhibit, and an Osprey Aircraft exhibit.
For More information, visit
www.missilesandmoremuseum.org
or
www.topsailhistoricalsociety.org
For your own piece of the iconic swing bridge, visit Jeff's website,
abovetopsailphotography.com