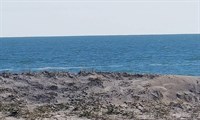 SURF CITY – The Pender County Tourism Development Authority hosted a press conference today to give an update on the progress of the two beach towns, Topsail Beach and Surf City, in the aftermath of Hurricane Florence.
"We are open for business," said Cathy Medlin, owner of
Island Real Estate
. "Our vacationers may not own a home here, but many of our vacationers have come to Topsail Island one week per year for many years. Those families are calling and booking reservations."
Lisa Sparrow, owner of
Starfish Realty
agrees.
"Rentals and the purchasing of real estate has been strong," she said.
"The community has come together and we're eager for the summer season to begin," said Danielle Mann, owner of
Topsail Steamer
, a company that started on Topsail Island and expanded to Wrightsville Beach.
"The island is open," said Joe Cina, vice chairman of the
Pender County Tourism Development Authority
. "People are walking the bridge, shopping and dining in our businesses, and enjoying the nightlife. We're open for business."
Cina said the press conference had one purpose, to dispel rumors of devastation following Hurricane Florence.
"We heard talk that there was debris on the beach and the beach accesses were destroyed," said Cina. "We felt the TDA needed to dispel those rumors."
Joining the TDA at the press conference were representatives from
Surf City
and
Topsail Beach
government, including Surf City Mayor Doug Medlin and Topsail Beach Mayor Howard Braxton.
Mayor Medlin said crews sweep the beaches each morning in search of the scant debris that may come ashore.
"We want visitors to know, the beaches are safe," he said, adding that the new Surf City Bridge gives a beautiful vantage point of the island. "We live in the most beautiful place on earth."
"We were prepared for the storm and that helped us tremendously," said Braxton.
Both Surf City and Topsail Beach are engaged in proactive beach nourishment programs. Chris Gibson, owner of
TI Coastal
, the engineer who is spearheading both projects, explained that towns that are engineering their beaches sustain less property damage. He pointed out that both towns have been spent local funds to protect the beaches and properties.
For more information contact the Pender County Tourism Office at 910-259-1536.