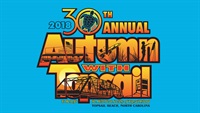 TOPSAIL BEACH – For the 30th year in a row, art and beach music lovers will gather in Topsail Beach, North Carolina at the Autumn With Topsail Festival. Autumn With Topsail takes place, rain or shine, from 8 - 8 on Oct. 20, and 9 - 4 on Oct. 21 on the grounds of the Historic Assembly Building, 720 Channel Boulevard, Topsail Beach.
Admission is $5 for adults, or $8 for an adult two-day pass. Children age 12 and under and active-duty military with an ID are free. Proceeds from the festival go to the Historical Society of Topsail Island, a volunteer non-profit organization which owns and operates the Assembly Building and Missiles and More Museum.
The festival will feature arts and crafts from a variety of categories including: woodworking, metal sculpting, painting, jewelry crafting, and much more will be featured at the juried art festival. Good food, live music, a beer and wine tent and lots of activities for children will also be available, but the focus is on the art, according to Rick Stidley, Chairman of the AWT festival.
"This year we have undertaken a major restoration project to repair and reinforce the roof truss system in our historic Assembly Building," Stidley said. Our costs totaled over $154,000. Your continued support is needed as we work to preserve this historic building which functions at the very heart of this island community.
Live bands will perform both afternoons at the festival. Starting at noon Saturday, The Carolina Band will take the stage, followed at 5:00 p.m. by the North Tower Band. The next day, The Band of Oz will be playing from 1:00 p.m. to 4:00 p.m.
In addition to the art, there is a food court that will have a large selection of food cooked on festival grounds. Snacks and sweets will be available alongside traditional southern food and ethnic options. There will be a wine and beer tent and plenty of tables and chairs for diners to relax. The Kiwanis Club of Topsail Island Area will also host a pancake breakfast from 7:30 a.m. to 10:00 a.m. on Saturday and 8:00 a.m. to 10:00 a.m. on Sunday inside the Assembly Building on the festival grounds. Pancake breakfast prices are $7.00 for adults and children over 12 years, $4.00 for children 6 – 11 years, and children 5 years and under eat free with an adult purchased breakfast.
In the Assembly Building children can enjoy rock painting, decorating mermaid and pirate masks, face painting, colorful hairspray designs, seashell "critters", pirate eye patches, as well as, designing beaded necklaces and bracelets.
The Assembly Building houses the Missiles and More Museum, which will be open from 10 a.m. to 4 p.m. during the festival. Admission to the museum is free but donations will be gladly accepted. The museum exhibits original missiles from Operation Bumblebee, the U.S. Navy's secret guided missile program that operated on Topsail Island from 1946 to 1948. For additional information visit the AWT website: www.autumnwithtopsail.com. or the HSTI website: wwwtopsailhistoricalsociety.org.