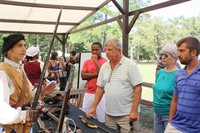 Moores Creek National Battlefield to Host Informational Meeting on How to Become a Reenactor and Get Involved in Living History
Currie, NC - Have you ever visited as historic site or event and wondered "How do I become a Reenactor"? Join us on Saturday, August 25 from 10 am - 12 pm for an informational meeting and orientation as to how to get involved with Living History- i.e. Reenacting and Storytelling in a historical setting. Staff and volunteers at Moores Creek National Battlefield will be providing a brief overview of volunteer opportunities offered in the park and how you can participate. Demonstrations will be provided and Question and Answer sessions will take place to assist you in getting the answers you need. Volunteer Living History opportunities include:
Share the Stories of the American Revolution by joining the park's Patriot or Loyalist military Living History Groups. The groups portray the citizen-soldiers who answered the call march. Volunteers are trained on the handling and firing of historic muskets and cannons, and how to present yourself as a soldier.
Share the Stories Beyond the Battlefield by joining one of our Historic Trades Programs, which include:
Blacksmithing
Woodworking
Foodways, including cooking and gardening
Clothing
Toys and Games
Medicine
Variety of other small programs
For each of these programs, training and clothing may be provided, depending on availability. Volunteer opportunities are open to anyone 16 years of age or older. This meeting will last approximately 2 hours. No commitment is expected or necessary to join us for this meeting. The objective of this meeting is to provide information so that the public may finally have an answer to the question "How do I become a reenactor?" To preregister to hold a seat, please email the event coordinator at
/Blog/253525/Learn-to-become-a-re-enactor-volunteer-at-Moores-Creek-National-Park
with your name and contact information. Preregistering is not required. So what are you waiting for- help share America's history by joining us on August 25 and see how you can get involved!
Event Info
Date: August 25, 2018
Time: 10 am - 12 pm
Where: Moores Creek National Battlefield
Patriots Hall
40 Patriots Hall Dr.
Currie, NC 28435
Cost: Free
Intent: To provide information to the public on how to get involved with Reenacting / Living History.