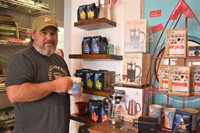 Every customer who has passed through the doors of Sugar Island Bakery knows that quality ingredients make a quality-tasting product.
The bakery, which features delicious cookies, cakes, pies, and snacks, now offers quality house-roasted coffee.
"I had my first cup of coffee in my early 20s," said Shawn Smith, the roaster and creator of flavorful blends. "I was in the Army, in the mountains of Kentucky, in December, and they delivered a tub of hot coffee."
Now Shawn appreciates very good coffee.
"When Sam and I had the shop in Wilmington, we were also a coffee shop," said Shawn, who co-owns Sugar Island with his wife Samantha.
In 2013, Shawn and Samantha moved the bakery from Wilmington to Surf City and they have become woven into the tasteful threads of the community.
Together they have built a business that focuses on quality products. They love books, so the bakery has a vast selection of books. They also sell coffee mugs by artisans as well as SMEG coffee makers.
Shawn brews his beer, so he decided to try his hand at roasting his coffee.
"Before COVID, I started learning about roasting and experimenting with coffees," Shawn said. "I love to read, and I love to learn."
He researched the various types of roasting equipment and the many different beans grown throughout the world.
"Beans are an agricultural product so naturally they vary from location to location, just as blueberries or apples differ from field to field," Shawn explained.
"The important thing is to start with good beans of high quality," Shawn added.
When COVID closed the retail bakery business for a while, Shawn took advantage of the time to develop a house roasting plan. He started small and sampled a lot.
"I learned a lot from Walt Bateman of Java Estate Roastery," Shawn said, adding that while he pursued his MBA at UNCW, he was assigned to Walt's group. "There's always something to learn and something new and different."
In his pursuit of good coffee, Shawn found a roasting machine and beans that are organic and fair trade, in which workers are paid a wage worthy of their work.
"I track the temperatures, humidity, and the variables that can impact the beans," he said. "I use that data. There's a sweet spot for each coffee."
Shawn only roasts small batches. He doesn't want the coffee to grow stale. After roasting, he lets the beans "rest" for two or three days before tasting. Allowing the beans to rest is how you get the best flavor.
"Testing and tasting each small batch allows us to dial in the best flavor in each individual coffee," Shawn explained.
Currently, Sugar Island offers eight different coffees and two limited series of coffees under the Small Craft brand. The coffees are available for ordering online at https://smallcraft.coffee.
The ground Sugar Island Flavored coffees include Beach Beans with caramel toffee flavor; Pirates Blend is chocolate, cinnamon, and rum flavors, and Bumblebee Coffee (with respect to Operation Bumblebee) which features pecan and honey. There are more! How would you like a cup of Ambition with the taste of coconut cream and vanilla bean coffee?
They sell decaf coffee for those who need to cut back on caffeine.
"Instead of using chemicals to remove the caffeine, we sell a decaf that uses the Swiss Water Process of stripping – removing - the caffeine through water, time, pressure, and temperature," said Shawn. "It has a good, full-body taste."
"We roast every batch" is the tagline Sam created.
Shawn, and the Smith children, design the labels for the coffee packages, which are available from Sugar Island as well as the local IGA, Herrings Outdoor Sports, and online.
"Our packaging is recyclable," Shawn said. "We hope to sell our coffee in compostable bags one day, but I want to find the right one. The chaff from the coffee beans is compostable too."
"I am working to develop an online subscription service for coffee," said Shawn. "Orders can be taken now online at
https://smallcraft.coffee/index.php/shop-coffee-online
.
Sugar Island and the coffee roasting is located at 206 N. Topsail Dr. in Surf City. The website for Sugar Island is
Sugarislandnc.com
. For more details, call 910-254-1110.
Watch our
video of Shawn Smith roasting a new batch here.