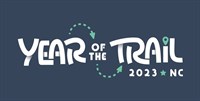 We are celebrating the Year of the Trail!

2023 NC Year of the Trail celebrates North Carolina's vast network of trails, greenways, and blueways which showcase our diverse landscapes – grand mountain vistas, quiet rivers, vibrant urban greenways, coastal forests, and the rolling hills of the Piedmont.
NC Year of the Trail is the largest statewide celebration of trails and outdoor recreation in North Carolina history.
North Carolina is the Great Trails State, where each of North Carolina's 100 counties should be able to enjoy the proven benefits of trails, including health, safety, economic development, tourism, transportation, and environment. Trails are the backbone of our state's growing $28 billion outdoor recreation economy.
The Year of the Trail campaign will reach communities with the message of how and where to experience trails that showcase North Carolina's beautiful landscapes, provide healthy recreation, and stimulate local economies. The NC General Assembly NC designated 2023 as NC Year of the Trail, an effort led by the Great Trails State Coalition.
The Great Trails State Coalition is a broad-based group of diverse organizations, agencies, and supporters advocating for increased state investment in all types of trails statewide: hiking, paddle, mountain biking, equestrian, and paved.
Goals for NC Year of the Trail:
Inspire people of all ages, abilities, and backgrounds to try trails,
Demonstrate the importance of trails to elected officials.
Boost outdoor recreation tourism across the state through Year of the Trail events in all 100 counties.
Promote safe and responsible use of trails, with the Outdoor NC Principles.
Advance diversity and inclusion on trails
Learn more at
greattrailsnc.com