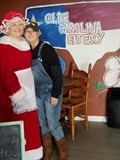 There have been several sightings of Mrs. Claus in Pender County as our holiday shopping begins.
Recently she visited Olde Carolina Eatery. We were told by Mrs. Claus that Frances has been a good girl, especially on Wednesdays, which we all know is Chicken and Pastry Day.
Why does Mrs. Claus shop in Pender County?
Because It Matters Where You Shop!
When you shop locally, you are supporting your neighbor-owned small business. You are supporting the business owner who is the first to give to our scouts, our youth leagues, and booster clubs. When you shop locally, the tax revenue stays in Pender County.
When Mrs. Claus shops locally, Pender County Tourism films and photographs her visits. We post these shopping adventures on our
Pender County Tourism Facebook page
,
It's a Pender County Christmas Facebook page,
and our
Shop Pender County Facebook page
.
Like children rattling presents under the Christmas Tree, we like to snoop and see what she is purchasing. Thus far, she is inquiring about gift certificates from our local restaurants, which make excellent gifts.
Businesses tell Mrs. Claus what items are trending this holiday season. They also share ideas for what to buy for the man who has everything – including his own workshop!
The majority of our Pender County businesses are "Mom and Pop" locally owned and operated.
Mrs. Claus said she shops in Pender County because she has her favorite items in every store.
"You'll find gift ideas that you won't find in a big box store," Mrs. Claus told us while she visited Megabella Treasures in Surf City. "Unique gift ideas make gift-giving more personal, more thoughtful, I believe."
Pender County stores have a wide variety of items too – from antiques to the newest, stylish, cowboy boots.
"While I prefer to shop in person, I have learned some Pender County businesses have online shopping available," said Mrs. Claus.
Mrs. Claus also noted that she enjoys shopping at local festivals, including Autumn with Topsail, NC Spot Festival, the NC Blueberry Festival, and Christmas on the Square.
"These events attract quality vendors with unique gift items," Mrs. Claus told us. "Of course, I dress incognito. I don't want to stir up a fuss – it's a little trick I learned from Jackie O."
Mrs. Claus will not be dressed incognito on Saturday night as she appears in the Greater Topsail Area Chamber of Commerce Flotilla. She will also join Mr. Clausat at the Hampstead Tree Lighting on Dec. 2.
"I will enjoy the boat ride up the Intracoastal Waterway," said Mrs. Claus. "But from what I hear, there will be great shopping opportunities there too! I do love to shop till I drop."
For a complete list of local shopping establishments, go online to
visitpender.com.