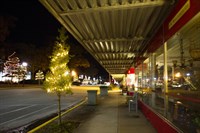 Yes, we in the tourism office know today is Halloween.
We also know that tomorrow is Nov. 1. Christmas music will begin playing on XM radio. The stores sell ornaments, trees, and gifts galore now. Not even the appearance of
The Grinch
will steal our holiday spirit in Pender County!
Pender County can match any activities that Whoville and Little Cindy Lou Who could imagine.
Strike up the wuzztubas and snaptuccas (or whatever noisemaker Dr. Suess imagined) because we've got events bursting from one side of the county to another!
On Nov. 19, Santa will arrive for the annual
Surf City Tree Lighting
, from 3-6 p.m. Be there for the flip of the switch when
Soundside Park
becomes a lighted boardwalk and Christmas tree. There is no fee.
Thanksgiving weekend is chock full of Christmas holiday events.
The Register Family at
Lake Linda
will open their driveway for another holiday spectacular on Thanksgiving Day evening. The family is always the first to remind us of the reason for the season and they urge giving a donation or a new toy to a needy family. The light display will be open until New Year's.
Rocky Point's
Old Homestead Farms and Christmas in the Country
will return, starting Nov. 25 and continue through New Year's Eve. Load up the car and follow the lighted path. Tickets are $25 per car (cash and credit cards are accepted). Tickets are purchased on-site only at the entrance of the light show at the end of Rocky Point Elementary School Road. Remember to treat yourself and the family to hot chocolate and treats along the route.
On Nov. 25 visit
Christmas on the Square
, an annual market where you can shop for uniquely crafted gifts on the Historic Courthouse Square. Be sure to visit the
shops in Burgaw
for beautiful gifts. You will feel like you are shopping and strolling in a scene from
It's a Wonderful Life
(without the snow, of course). Grab a coffee at
Brown Dog Coffee Shop
and enjoy lunch at
Olde Carolina Eatery
,
Harvey's
,
Alimente,
MeMa's Chick'n & Ribs
, or
Bandana's American Grill
.
Poplar Grove Plantation
and
Patriot Illumination
are teaming up for the
All Is Bright, a Holiday of Lights
starting on Nov. 25 and Nov. 26, from 5 to 9 p.m. The light show will continue on Dec. 1, 2, 3, 8, 9, 10, 15, 16, 17, 21, 22, 23, 28, 29, and 30. Tickets are available online at poplargrove.org or at the door.
Later in the day, on Nov. 25, visit
Historic Downtown Burgaw
for their
annual tree lighting
. If you haven't seen Burgaw at Christmas time, you are missing a Hallmark Moment. Burgaw in the evening is Christmas Town East. It is beautiful.
If Burgaw is a Hallmark Moment,
Topsail Beach
is Mayberry by the Sea. Be sure to visit the shops and restaurants in Topsail Beach before enjoying the
Lighted Christmas Parade and the Topsail Beach Tree Lighting in Town Center
. The event is set for Saturday, Nov. 26, on Thanksgiving Weekend. The parade steps off at 4:30 p.m. and the tree lighting will follow.
Last year was the first year for the
Hampstead Tree Lighting in Kiwanis Park
. It was a huge success as neighbors gathered to sing carols, listen to music, meet with Santa and Mrs. Claus, and light the
Christmas Tree
. The event is slated for Dec. 2, starting at 6 p.m.
The
Town of Atkinson Christmas Parade
is a morning event on Dec. 3 that is fun for all ages. While in town, stop by Southern Fusion for a delicious breakfast or lunch. You will not be disappointed!
If you haven't purchased your tickets for the Dec. 3
Burgaw Holiday Home Tour
, it's not too late. Many of the local merchants are selling tickets for the tour. Visit homes, the Historic Train Depot, and one church on tour. Tours begin at 3 p.m. and end at 7 p.m.
The
Greater Topsail Area Chamber of Commerce
will host its annual holiday market and the
Topsail Flotilla
at
Soundside Park
in Surf City on Dec. 3. The vendors at the market will open around 10 a.m. and stay open until around 4 p.m. The boats will set sail from Bush Marina in Topsail Beach after 5:3 p.m. and travel northward on the Intracoastal Waterway. The event will close around 7:30 p.m.
The
Historical Society of Topsail Island
will host its annual
Jingle Bell Ball
on Dec. 3. The ball is a sell-out every year and the funds raise money for scholarships. It's a great time to dress up, dance, and dine on a delicious meal from Beach Shop Grill. The event begins at 6:30 p.m. Tickets, which are $100 each, go on sale on Nov. 10.
Now, back to Burgaw, Christmas Town East, on Dec. 10, attend the
Burgaw Lighted Parade,
at 5:30 p.m. This is a beautiful parade filled with hometown charm. The parade travels to the Courthouse Square. The best viewing spots are along Wright Street. Bring a lawn chair. Arrive early enough to enjoy a meal in town.
In the words of Dr. Suess, "And what happened then? Well, in Whoville they say that the Grinch's small heart grew three sizes that day."
As your heart grows with holiday cheer, don't forget to add the
Blueberry Drop
to your calendar on New Year's Eve. This year, there are going to be fireworks, fantastic music, and more. Festivities begin at 5 p.m. and the Blueberry Drop is at 7 p.m.