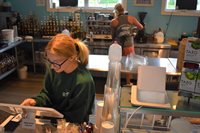 It all started with a cup of coffee.
On Memorial Weekend in 2010, Tracey Shugarts and her husband, Jeremy, opened a little coffee shop in Surf City called The Daily Grind.
"Originally, we thought this would be a seasonal, May through August, business," said Tracey. "We never closed after the first summer – except on Christmas Day."
In a time when it seems coffee shops are sprouting up across the county, The Daily Grind was the second to open and the only one in Surf City to continue to this day.
"I give a lot of credit to our amazing staff," said Tracey. "We employ students starting at age 14 and many stay with us. Our manager is a full-time employee, and she takes her job very seriously. We rely on them."
Tracey said after gaining traction with the coffee shop, they opened an ice cream shop a couple of doors down from The Daily Grind in Treasure Coast Square.
"I wanted to serve fresh donuts," Tracey said. "I wanted a donut machine, but we knew logistically it was too much to operate two businesses plus make donuts. So, we moved the ice cream business over to the coffee shop and we started making fresh donuts. It was a game changer."
With the success of all three products, Tracey said they maxed out their space in their original location.
On Nov. 19, 2020, the Daily Grind moved to its current location, 114 N. Topsail Dr.
"We moved here with the idea to grow, but the idea of UnWINEd hadn't crossed our minds at the time," Tracey said. "We wanted a deck."
"When COVID hit, we paused for a week. Jeremy and friends and family finished the deck. One year to the day we opened the Daily Grind, we opened UnWINEd," said Tracey. "We evolved to stay open. We brought back employees, and we added a second stage, so our music is seamless between acts."
Tracey said it was as if they had planned for COVID. Visitors and homeowners who were working remotely or laid-off were coming to the island.
The Daily Grind
and
UnWINEd
met a need for outside service.
Tracey has been surprised by the amount of merchandise the business sells. Shoppers love their T-shirts, caps, and sweatshirts.
"It makes me smile when I see a total stranger in an airport wearing one of our shirts," she chuckled.
Another popular item in the business is the Surf City mural. Painted by a local, Shepard Lanier, the mural is a favorite photo backdrop for families.
In addition to an assortment of coffee brews, smoothies, teas, and ice lattes, the business has added breakfast sandwiches, street tacos, and more. Online ordering is available from the Daily Grind website,
https://www.dailygrindsurfcity.com
.
"We have just been super-blessed," said Tracey. "We have 51 amazing employees, and we're open year-round."
For more information about
The Daily Grind
and
UnWINEd
, visit their website and social media. Musical entertainment is posted every Monday for the week on
Facebook
.