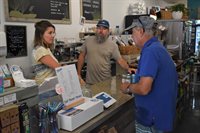 Brandy Wians and Garrett Shaver had a fresh idea.
On Jan. 7, the couple opened
Salt Marsh Market,
offering unique and delicious foods, beer, wines, and more to our local retail landscape.
"The store turned out better than we envisioned," said Brandy. "In the last seven months, we have added to our selections."
Salt Marsh Market offers a wide variety of local products. They have added shelving space as they bring in more unique items to offer. But Brandy said they will not add items just to fill shelf space. Salt Marsh Market will offer boutique wines, an ever-changing selection of beers, and foods that are tasty and convenient.
"We look for products made regionally in North Carolina or products that are a specialty niche product," said Garrett. "We offer items that won't find in a big box store."
"We have a large selection of vegan and gluten-free items," said Brandy. "Shoppers with dietary restrictions will find a nice selection of foods, including desserts."
The market offers Veggie Wagon selections such as "Take and Bake" items including mac and cheese, prepped bacon burgers, Italian meatballs, lasagna, and more.
Brandy said The Veggie Wagon is a Carolina Beach-based business that they have known for years.
"You won't find these products in any other market around here," said Brandy. "The Veggie Wagon items are convenient and delicious."
"The food is terrific from Salt Marsh Market," said regular customer John Fahey. "The market has things you can't find anywhere else, and the staff is great too."
John, a member of the Topsail Island Longboard Association, said he wants to eat healthier. At Salt Marsh Market, he buys "dairy" items that aren't dairy items but made from nuts.
"The cheeses are incredible," said John.
Salt Marsh Market also offers a nice selection of Smith's cheeses, Boars Head, and Ashe County Cheese.
John added that as a member of the local longboard organization, he appreciates a local company that gives back to the community. He said Brandy and Garrett assist in beach clean-ups and donate to community causes.
"We're only one of a few Five-Star Ocean Friendly Establishments in the region," said Garrett.
Owning a retail establishment is a new venture for Brandy and Garrett. Brandy, originally from Massachusetts, managed a Wilmington doctor's office for several years. Garrett worked in the craft beer business for 16 years. A native of Southport, Garrett, said they were both ready for a change.
"COVID happened," said Brandy. "When businesses were closing due to COVID, we made adjustments, such as installing the walk-up window. Customers walk next door from Salty Turtle to order chips and salsa and various snack items."
"We listen to our customers," said Brandy.
Their customer base consists of regulars who shop once and twice per week, plus vacationers.
Customers like the Salt Marsh Market's made-to-order wine slushies. Using organic fruit puree, local honey, and the wine of the customer's choice, the drink is refreshing. Assorted mimosas and gelato milkshakes are also popular. There are draft beers and beers to go.
The market's branded merchandise, including t-shirts, ball caps, and drinking cups, are extremely popular.
"It tickles me to see our brand on strangers," Brandy said. "The merchandise is coming on strong."
Salt Marsh Market is located at 100-A Charlie Medlin Dr. in Surf City (next door to Salty Turtle.) Follow the store on
Facebook
, Instagram, and Tik Tok. For information email
info@saltmarshmarket.com
or call 910-803-0900.
How they selected the name of their business:
"The name was decided well before we had the location, we were floating in the pool tossing around names, we knew we wanted something relevant to the area and "market". Salt Marsh had a nice ring to it, we live in Marsh Oaks, so that may have influenced the name. Later that day we had a green heron in our backyard, I didn't know what it was at first but was intrigiued. After doing research on the little green bird, we had our name and mascot. We still have green herons frequent our yard and every time they come around I'm reminded of how this all began," recalled Brandy.