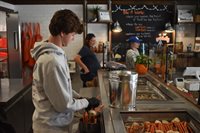 We've got the pot. You pick the spot. That's the dinner bell ringing from Topsail Steamer in Surf City.
With six locations and shipping nationwide, Topsail Steamer was once upon a time Topsail Island's best-kept secret. The first location opened in Surf City in March 2017. The freshness of its food and the manner in which it is delivered has set Topsail Steamer apart.
They clean, chop, and prep every ingredient that goes into the varieties of Topsail Steamer's pots. The customer picks up the pot and takes it home. Instructions are provided. It takes about 10 minutes to fully steam the pot. Then, all you must do is pour the fresh cooked meal onto the table-wide paper (which is provided with the pot). Dinner, a seafood feast, is served.
"We make dinner easy," said McKenna Smith, the manager at Topsail Steamer in Surf City.
The menu is online. Ordering can be done online as well.
The Topsail Steamer Pots are a one-time-use bucket. The buckets are filled with fresh seafood and vegetables. There are seven different buckets, such as the Low Country Shrimp filled with large shrimp, Andouille sausage, sweet corn, red bliss potatoes, and their homemade seafood seasoning and served with cocktail sauce and butter. The Topsail Clam Bake bucket is filled with large shrimp, little neck clams, kielbasa, sweet corn, red bliss potatoes, onion, and their signature homemade seafood seasoning.
Other top sellers are the Crabby Jimbo with snow crab, the Full Steamer with snow crab, large shrimp, and little neck clams, Captain Pierce, the Wrightsville, and Miss Emily.
"You can build your bucket," said Smith.
Miss Emily features lobster tails. The Wrightsville features snow crab, large sea scallops, large shrimp, little neck clams, both Andouille sausage and kielbasa, and vegetables.
Most orders are for parties from 3 to 10 dinners. However, Topsail Steamer provides steam pots for up to 50 guests. Parties can rent the burners while hosts provide the gas.
"We take care of the prep and we provide the instructions," said Smith. "It's a great way to enjoy a seafood feast, especially for families on the go."
For more information about Topsail Steamer, visit online at
www.topsailsteamer.com
or visit the Surf City location at 302 S. Topsail Dr. The phone number for the Topsail Island store is 910-328-2645.