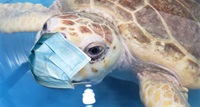 Sea Turtle Hospital News
We've had a very busy summer welcoming visitors to our hospital, and we'll continue to have public tours through the next several months. But Covid caused us to totally rethink the process: what's the best way to make sure you have a chance to see our turtles while keeping you and our staff safe? For those of you who have visited us in pre-Covid years, or if you're coming for the first time, there are some exciting changes that you'll need to be aware.
First: you will need to get familiar with our website,
www.seaturtlehospital.org
as you plan your visit. That's where you can review the days and times we will be open, and where you
must
purchase your ticket in advance, online. Through the end of August, we will be open daily (EXCEPT Wednesdays and Sundays) from Noon – 4 PM.
Be sure that you are buying
your tickets for the right day,
and the right turtle hospital!
We have had quite a few visitors who thought they booked with us but had bought tickets for the sea turtle hospital in Marathon, Florida. We will be moving to a four-day tour schedule beginning Sept. 8
.
To maintain social distancing we admit only 15 people, every 10 minutes. The ticketing function is working properly so if it says there is only "1" ticket left for that particular day or time slot there really is only one ticket. If you can't get everyone in your party in together at a particular time check the adjacent times and you may be able to slot them in just ahead of or behind you.
We require masks for all staff and visitors over the age of five. NO EXCEPTIONS. Loggerhead "Spock" demonstrates the proper use of a mask. If you forget your mask you may purchase a cloth one with our hospital logo. In an emergency, we have a very limited supply of disposable masks available for a small donation.
Parking nightmares and long lines are a thing of the past. You can ditch those hiking boots and umbrellas that you used for shade. You should arrive about 5-10 minutes or so before your time and check-in with our volunteer at the door who has that day's confirmed visitors list on an iPad. Please bring only those with tickets to the hospital; unfortunately, we will not be able to accommodate un-ticketed visitors unless there are last-minute cancellations, and those are very rare. On Tuesdays, weather permitting, one of our very talented volunteers, Beth will be doing sea creature-themed face painting for a donation. She's amazing!
Once inside you will be met by a volunteer docent who will accompany your group throughout the building, moving through the educational exhibits in our great hall and ending in Sea Turtle Bay, the last stop for our turtles before they are released. We have patients representing the three species we generally care for rotating in and out of Sea Turtle Bay. Permanent resident, Kemp's "Lennie," our hospital ambassador, still enjoys the excitement of hearing voices at her tank even though she can't see you. Our largest patient, loggerhead "Snooki" is always looking for attention, and although you won't get close enough to capture a portrait shot she likes to see just how far she can fling water with those ginormous flippers. Long-term patient "Canal," a juvenile green thinks everybody is there to see him and to take his picture. At times you can find him in his favorite place, his "grotto," scratching his carapace on a brush. Feel free to ask questions of your docent as you move through the building.
After leaving Sea Turtle Bay you will enter our gift shop area. Again, we've had to reduce complete access to the area, but we have samples of our most popular exclusive hospital merchandise on display, and "personal shoppers" who will work with you as you make your selections. And one last stop before you leave us: our adoption table, offering various levels of adoptions for several of our patients. All the funds from adoptions go directly to the care and feeding of our turtles. Our hospital is staffed by volunteers, our pay is the gratification of seeing a happy, healthy turtle go home. Hope to see you soon.
Turtle Talks in Topsail Beach
: if you can't make it to the hospital you can still get a crash course in sea turtles at 9 AM on Mondays, through August 30
th
. We invite all ages to bring a chair and join us outside at the Assembly Building, 720 Channel Blvd. in Topsail Beach. The event is FREE, donations are welcomed and are used to benefit our turtles. Parking is across the street, and please note that the talks will be canceled in inclement weather.
Please continue to be our additional eyes for any turtles nesting, hatching or in distress of any kind. With nests hatching all over the island it would be easy to miss one of the little guys who didn't hear the alarm clock and leave the nest with his siblings. If you find a hatchling on the beach carefully pick it up and put it in a small container with some sand and a very small amount of water - barely cover the flippers. With this extreme heat, it's important that the little critter not bake in the sun for hours. Then call our Director of Beach Operations, Terry Meyer at 910-470-2880. If she is not available, you may call the hospital during operating hours: 910-329-0222. We will take the information and one of our area coordinators will meet you to retrieve the hatchling and refer it to us for follow-up. The State of NC hotline for stranded, sick, and injured turtles is 252-241-7367. The state number picks up 24/7.