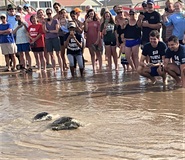 Sea Turtle Hospital News
Our nesting mamas continue to come ashore under the cover of darkness. But when our patients are ready to head in the opposite direction it's in the daylight, on an outgoing tide. Last week two Kemp's, "Njord" and "Shamrock" along with one of the few "spice girls" still in rehab, little green "Cumin" went home. Both Kemp's had experienced a ride more terrifying than anything you would find at any theme park, and by some miracle, they lived to tell the tale. They made it through a dredge. Although significantly banged up and traumatized, with a lot of TLC by our staff they're swimming free again. Cumin joined them after needing a little extra time to recover following her admittance over the winter as a cold stun. We release our patients as soon as possible after Dr. Harms pronounces them ready to go, and there are several more hoping he'll stop by their tanks on his next trip to give them the good news. We do not announce the details of a release, but many visitors have been surprised and elated when they see us in our SEA TURTLE HOSPITAL blues coming over the dune. They know why we're there and what's going to happen next. Maybe you'll get lucky and be at the right place at the right time over the next few months.
Covid forced us, like everybody else, to shut our doors to the public in 2020. As soon as Covid restrictions began to lift in the early spring we brainstormed the best way to open again while staying within the regulations and keeping our staff and visitors safe. Our revised process has been so well-received that we're continuing it going forward. Now, arriving an hour early and standing in line in the sun with hundreds of other visitors is a thing of the past. And parking is no longer a problem so you can ditch those hiking boots. To plan your visit, log on to our website
www.seaturtlehospital.org
and browse the days and times available for tours. We are open daily (except Wednesdays and Sundays) from Noon until 4 PM and we admit fifteen people every ten minutes. Purchase your tickets online for a reserved time on the day of your choice. Our turtles, with their magnetic personalities and air of mystery, remain popular so those tour slots fill very quickly. Only visitors with pre-purchased tickets will be admitted after your reservation is confirmed by our volunteer at the door. Masks are required for those 5 years of age and over and must be worn while in the building. You will be greeted inside by a docent who will accompany your group throughout the tour, visiting our education stations and meeting our patients to hear their remarkable stories. Tours last approximately 45 minutes, and after leaving Sea Turtle Bay you'll exit through our gift shop. Covid restrictions still in place prevent us from opening the entire area at the moment but we have knowledgeable and friendly staff happy to assist you as your "personal shopper." And stop by our adoption table where your adoption will provide food and medical care for our patients. The hardest part of the process will be deciding which one of those critters stole your heart. And don't worry – they don't go home with you - but they do make excellent gifts for those impossible-to-buy-for relatives and friends. On Tuesdays, weather permitting, our uber-talented hospital volunteer Beth will be doing face painting with the donations going to our turtles. She's turned little ladies into mermaids and princesses and boys into turtles and other reptiles. It's a great way for your kids (and maybe you) to end the day at our hospital. Come talk turtle with us!
Those turtle mamas are really in the groove now with 65 nests at this writing. Please be our additional eyes on the beach and report any signs of nesting mamas or turtle tracks. And if you see a turtle in any kind of distress contact our Director of Beach Operations, Terry Meyer at 910-470-2880 or the hospital at 910-329-0222 for pick-up and follow-up care at our facility. NC Wildlife Resources also has an emergency hotline number that picks up 24/7: 252-241-7367.