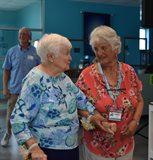 Sea Turtle Hospital News
Unless you've literally retreated into your shell you know by now that our founder, Jean Beasley has officially retired after decades of devotion to our precious sea turtles. On June 12 several hundred hospital volunteers, beach program directors, family, friends and various dignitaries assembled under a huge tent on our hospital lawn to celebrate her "release." Maybe it wasn't a walk down the beach, but it was a long walk down memory lane for the crowd.
Terry Meyer, Topsail Turtle Project director and long-time friend and volunteer began the fete by recalling how Jean snagged her off the beach one day to help her move a turtle nest. She related how soon after she "drank the Kool-Aid" (and proved it by raising a pink glass of it) and was hooked for life. We all chuckled at her very heartfelt speech that recounted Jean's trademark battle "armor" – her pink lipstick. Long-time hospital volunteer Gayle Childress followed with Jean stories, many of them going back to our little two-car garage hospital at the end of the island. She attested that when Jean decided she wanted something she made it happen, whether it was an internship program or opening a gift shop or really, just about whatever she had in her head. Nancy Fahey from the Wrightsville Beach Turtle Project spoke of the many ways Jean has encouraged and supported their work, and the work of all the projects along the NC coast. Every turtle project contributed their signature shirt, and hospital volunteer Susie Jolivette worked her fingers to the bone creating a large quilt from those contributions. A real keepsake for Jean; you could feel the love seeping out of each panel.
Tammy Proctor from Pender Tourism took the dais next to personally thank Jean and then introduce a long list of dignitaries waiting in the wings with proclamations, starting with the highest civilian award for state service granted by the Office of the Governor, The Order of the Long Leaf Pine. Award after award followed, with participants from all over the state personalizing stories with more Jean tales. All of them proclaimed June 12
th
as "Jean Beasley Day." Last but certainly not least was Elizabeth Hudson, Editor-in-Chief of
Our State Magazine
who had visited us to research a story several years ago. Like everybody else who meets Jean and our turtles, she left enchanted. She read a very touching tribute she had written and published in the magazine after her visit, leaving many of us sniffling.
We were about to end the outdoor ceremony when, oops, Jean asked if she could say a few words. Not that we forgot she was there, but she was hidden behind the large stack of awards in front of her on the table! Typical of Jean she said it's always been and will continue to be about the turtles. She thanked for us making her and her daughter Karen's dream of "doing something to help the turtles" come true.
Guests were invited inside for refreshments and cake and to see the portrait of Jean and note the official dedication of our sickbay unit to her. Some of her patented axioms, like "just keep swimming," and "flipper hugs" now grace our walls. And the cake (actually cakes) were not only yummy but were turtle-themed. By some miracle, the storm that had been predicted to start at the same time as the event held off until the very end. That pink lipstick has some power.
We can't forget that one of Jean's besties, local resident Sandy Sly who has been at her side through hurricanes, dark of night, and trips across the world to ISTS conventions (whatever happens at those "after hours" apparently remains secret to this day!) also retired. We all know and love Sandy as an enthusiastic and loyal supporter of Jean and our mission, and we wish her well. Both Jean and Sandy are keeping their residences on Topsail Island and intend to be around to support the turtle hospital and be involved in its activities as much as possible.
In a month or so Jean will head to the Tennessee mountains to live with her family. We hope her new place has a long wall for the awards she's taking with her. And rumor has it that Jean and Sandy will be collaborating on a book about the hospital, and some of us are scared! Hopefully, names will be changed to protect the not-so-innocent.
Briefly: we're open for tours from Noon-4 daily (except Wednesday and Sunday) but be sure to check our website,
www.seaturtlehospital.org
for our new admission process. You'll need to reserve a date and time for your visit and wear a mask inside. No more long lines!
If you're here for the great fishing you may have a close encounter with a sea turtle looking for an easy lunch. It can be quite startling if it's never happened to you before but keep calm and follow a few simple rules: DO NOT pull out the hook, especially if they appear to have swallowed it; and please leave about two feet of line attached to the hook(s) before cutting away any of your gear. The pier managers have landing nets and can assist you with the process, and they have the contact information to ensure that the turtle gets the proper follow-up care at our hospital.
Nesting season is in full swing with thirty-eight nests at this writing. Please be our additional eyes on the beach and report any signs of nesting mamas or turtle tracks. And if you see a turtle in any kind of distress contact our Director of Beach Operations, Terry Meyer at 910-470-2880 or the hospital at: 910-329-0222 for pick-up and follow-up care at our facility. NC Wildlife Resources also has an emergency hotline number that picks up 24/7: 252-241-7367.