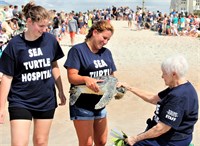 Sea Turtle Hospital News
It was the better of times and the best of times. Last week seventeen totally rehabilitated turtles went home, a mix of loggerheads, greens and Kemp's. Some of them spent years with us and some of them were short-timers.
Xena, our Warrior Princess was transported to us by sobbing volunteers who were begging Jean to save her. She had quit breathing and was literally on death's door. Knowing that sea turtles can go for long periods without taking a breath Jean and Med Team volunteer Sandy began giving her artificial respiration, lifting her flippers up and down in the air. After what seemed (to them) like hours this lady finally took a breath and began her exceptionally long period of recovery. While we do everything we can to save our patients the decision to live is ultimately up to the turtle. Xena fought like the warrior she was - and won the battle. She went home along with her loggerhead friend Spock who has a new outlook on life after having the vision restored in his left eye.
A herd of greens got their swimming papers too. Aquanaut cold-stuns," Dot Vaughan" and "James Irwin" who were held over from two winters ago finally completed their grueling rehabilitation. Dot had a long and deep laceration that ran over her spinal cord, and James had a wound so deep in his front flipper that we thought at one point he was going to lose it. Countless hours of the best medicines and best practices went into ensuring that these two had a second chance. This winter's cold-stunned "spice girls" (Cinnamon, Sage, Parsley, Cumin and several more) followed Dot and James into the deep blue sea.
And finally, two Kemp's: Meyer, a relative short-termer who took advantage of an easy lunch at a local pier and paid the price, and Kroc, a winter cold-stun victim. Both were quite a bit larger than the small cold-stunned Kemp's we admit every winter and with their feisty personalities it was kind of entertaining to have them in the house for a few months of rehab.
Releasing healthy turtles is the "better" of times in our profession, but what's the "best" of times? That would be our hospital founder, Jean having the opportunity to direct her final public release before her retirement this month. A fixture on the Topsail beaches and the local communities for years this had to be a bittersweet experience as she watched each turtle walked down to her chair to get final instructions from their turtle mama. These turtles went home because of what she and her daughter, Karen started over thirty years ago. And as she relocates to Tennessee, we promise to do what she's always told us to do no matter what: "keep swimming."
Although it seems to be a slow start to this year's nesting season with only seventeen nests things change quickly in the sea turtle world. Please be our additional eyes on the beach and report any signs of nesting mamas or turtle tracks. And if you see a turtle in any kind of distress contact our Director of Beach Operations, Terry Meyer at 910-470-2880 or the hospital at: 910-329-0222 for pick-up and follow-up care at our facility. NC Wildlife Resources also has an emergency hotline number that picks up 24/7: 252-241-7367.
If you're here for the fish be aware that turtles like to take advantage of an easy lunch at our piers and get hooked in the process. It can be quite startling if it's never happened to you before but keep calm and follow a few simple rules: DO NOT pull out the hook, especially if they appear to have swallowed it; and please leave about two feet of line attached to the hook(s) before cutting away any of your gear. The pier managers have landing nets and can assist you with the process, and they have the contact information to ensure that the turtle gets the proper follow-up care at our hospital.
We're open and running full speed five days a week (not on Wednesdays and Sundays) for public tours, from Noon – 4 PM. Admission is only by prepaid, reserved times with groups limited to fifteen. We admit a new group every ten minutes, and since you know when you're expected there's no more standing in line! Please check our website
www.seaturtlehospital.org
for tour dates and available times. Just a note: sorry, but at the present time our gift shop is open only to visitors during their scheduled tour. Come talk turtle with us!