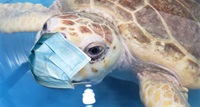 We're back! When our Governor began to relax the Covid restrictions on occupancy we put our carefully crafted plan into action and our hospital is again open to the public. But there are a few things you'll need to know before you come.
If you've been to see us before, whether in our current location or our original hospital in Topsail Beach you know that our turtles attract multitudes of fans from far and wide, resulting in long lines and wait times that could stretch to an hour or beyond. We hope you're not going to miss all of that - because it's gone!
We've implemented prepaid online ticketing with reserved days and times. Go to our website,
www.seaturtlehospital.org
where you will see a "click here" tab that will direct you to a calendar with the dates and time that we will be open for the next two months: Thursdays and Saturdays, from 1-4 PM. There's a list of tour times (every ten minutes) for that day with a limited number of spaces for each of those times (normally twelve.) You can browse the available time slots and begin buying tickets for you and your group. Large groups may have to schedule adjacent time slots.
On the day of your reservation please plan to arrive a little before your time, with everybody over the age of five wearing a mask. We cannot hold up a group for late arrivals and no one will be admitted without a mask, no exceptions. You will be greeted at our door and introduced to one of our docents who will accompany you throughout the building. The tour lasts approximately forty-five minutes during which time you will learn more about our work and meet our patients. Feel free to take pictures of them – we think they are all beautiful, and so do they!
After you leave Sea Turtle Bay you will have the opportunity to visit our gift shop. Due to capacity limits we are not able to open the entire area at this time, but our staff can assist you in the selection and retrieval of many of our items. Our adoption desk will also be staffed so you can pick the turtle that stole your heart and take home a certificate, their picture and/or other premiums based on adoption levels as a memento. Adoptions make great gifts for the person who has everything.
We're so delighted to be able to finally welcome you back into our lives and we're sure you will enjoy the more relaxed and personal turtle experience with our docent-led tours and the convenience of paying online for your visit.