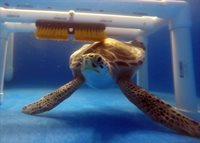 Sea Turtle Hospital News
On March 17 everybody is Irish, at least Irish enough to wear something green, eat corned beef and cabbage and drink a brew that turns your tongue an odd color for the day. And we're celebrating the month of March at the hospital by featuring three of our exceptional greens for adoption.
Long-time patient "Canal" heads the list. Canal has been with us since 2015 after admission for boat strike injuries to his carapace. Treatment included removing necrotic bone fragments in the hope that, with physical therapy and lots of time in the therapy pool he would regain full use of his flippers. Canal also has a buoyancy problem related to his injury; he floats butt-up. But he was displaying signs that he was able to compensate and dive and stay on the bottom of the therapy pool for some length of time. Showing much improvement in his strength we released Canal in 2018, but he re-stranded on our beach the next day. Canal is a perennial favorite during tours and loves attention from our staff. He has a specially constructed "grotto" with a brush for back-scratching which is where he spends his time napping. We are actively searching for a permanent home for him that will provide more enrichment as he continues to grow.
"Shaggy" is a juvenile green admitted almost a year ago as a cold-stun, one of the hundred-plus turtles we cared for last winter. He was a typical victim; thin, lethargic, and a little wheezy. But what made him so different from the others was the condition of his carapace. It was a mess; he truly was "shaggy," pretty stinky and shedding scutes. After months of care by our staff, daily double-bubble baths and topical treatments Shaggy has morphed into a beautiful young man scheduled for release this spring.
Our final green hoping for a little luck of the Irish to garner some adoptions is "James Irwin." One of the cold-stunned "aquanauts" James beat Shaggy in by a few months. In addition to being caught in the cold, he had a deep wound to his right front flipper, seriously compromising the bone. He required delicate handling and a lot of medicinal and topical care, including honey treatments. His wound would alternately show improvement but then suddenly flare-up. His medical record is page after page of exam notes, blood work, and various procedures by Dr. Harms. At one point amputation was discussed but knowing our ability to work miracles on severely injured turtles Dr. Harms held off hoping to save the flipper. James is happy that he did. He's still got all his parts; they work well, and he's been upgraded to a more spacious tank in Sea Turtle Bay. Word is that
every
turtle knows that's generally only temporary housing before their release. Adopt him while you can, he may be gone in a few months.
Although cold stun admits having dropped off there are still turtles lingering out there that are just now becoming debilitated enough to wash up onto our beaches and marshy areas If you spot one gently pick them up and then follow a few basic steps. Take them to an unheated but sheltered place, like your car or your garage. You may be tempted to warm them up but that's the worst thing you can do. Turtles are reptiles and cannot regulate body temperature so forcing their body to adjust quickly to a heated environment could send them into shock.
And spring means the fish are running and the turtles will begin following them, unfortunately, it's generally straight to our local piers. Soon we expect to get the usual influx of pier-hooked turtles and for some reason, it's always the Kemp's. Our pier operators are well-versed in what to do so if you happen to find a turtle at the end of your line please notify them of the proper way to handle it. If you find a stranded or hooked turtle please call our Director of Beach Operations, Terry Meyer at 910-470-2880 or the hospital at 910-329-0222 for pick-up and follow-up care at our facility. NC Wildlife Resources also has an emergency hotline number that picks up 24/7: 252-241-7367.
Going Local
Gallery in Mayfaire Town Center is holding a mixed media, sea-turtle-themed show benefitting the Karen Beasley Sea Turtle Rescue & Rehabilitation Center. The show features NC artists and is a judged show, including voting for a "people's choice" award. The show opens with a limited, ticketed VIP event on 3/12 and will continue, free to the public from 3/13 through 3/21. Sponsorships are also available. E-mail Michelle Conely @
goinglocalnc@gmail.com
or phone 910-742-3319 for more information. Please stop by and take home that perfect piece to complete your coastal or sea turtle décor.