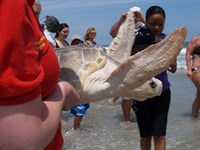 Sea Turtle Hospital News
It's been a strangely calm fall at the hospital, largely due to Covid restrictions and not being able to invite you all in but also because we have relatively few patients. Not that we're hoping for the ginormous influx of cold-stuns that New England is dealing with! So, when we have some time between morning feedings and late morning turtle care talk often turns to our years at the old hospital in Topsail Beach, and some of the patients there. And that's when the very few of us veterans from the old days began to tell the tale of the Kemp's from England – "Willy."
On January 6, 2007 (yes, 2007,) Willy stranded at Woolacombe Bay in the UK. She was under 3 kg, battered and beaten to the point where the staff at Sea Life Park couldn't even identify what species of sea turtle they had under their care. Long story short, after six months of treatment Willy was finally moved into their shark nursery tank where she grew and grew, hoping for a way back the to the US. To make an even longer story short, after two years of paperwork, licenses, permits and negotiations with what seemed like endless government agencies in two countries she arrived at RDU on May 22, 2009 with her entourage. Travelling courtesy of American Airlines, she received VIT (very important turtle) treatment the entire way. Although her wooden crate (from a British Army tank) wasn't exactly luxurious it was well padded and kept her entirely protected during her trip. (Note: we still have that crate with all the labels and other historical markings at our hospital. Maybe it's time to dig it out and put it on display, along with her story.)
After years in England not only did Willy have a bit of a British accent but she needed to repatriate herself, become familiar with "her" side of the Atlantic and turn on her turtle GPS so she could find her natal beach when she reached adulthood and was ready to nest. She needed to go for a walk on the beach
A turtle with international star power does not simply "go for a walk." Her fans in the UK demanded the latest news on their famous Kemp's so her little stroll along Topsail was broadcast live in the UK. Mike Dilger, the wildlife host of BBC-1's "The One Show" set up shop to document the moment Willy's flippers hit the sand.
With a special invitation crowd in the background, including kids from Dixon Elementary waving both American and British flags (Willy held dual citizenship) the cameras started to roll and it was show time. Initially a bit confused Willy did not move off her mark until Jean and Mike hunkered down over her to explain exactly why this walk was so important to her release. Still not moving you could nonetheless see by her body language that she was taking in all the smells and textures so very new to her. Once she seemed to have the information she needed she headed for the water. But this was only the first of several trial runs so she was snatched up and returned to the hospital for breakfast and a nap. She had earlier refused to eat, knowing that the camera adds at least ten pounds!
On June 10, Christine Pitcher from the Great Yarmouth Sea Life Center in the UK arrived at Topsail along with the best wishes of Willy's UK fans to have the honor of releasing her. The news that we were going to "free Willy" travelled quickly and a large crowd of her fans gathered as she was carried down to the surf, giving her admirers a queenly wave of the flipper along the way. After wading into chest-deep water Christine took her hands away and Willy glided gracefully through the gently rolling waves. We were able to watch her for some time, sighting an occasional flipper breaking through the surface in a final good-bye.
We were so honored to have been entrusted with the care and release of this remarkable creature. She was loved as much as every one of our patients, and to this day we think of her quite often and hope she has been able to live out her years safely and "re-productively." Kemp's are the rarest of the rare.
Looks like winter has really arrived, with the Kemp's stuck around Cape Cod taking the brunt of Mother Nature now. We'll probably start seeing some of our local turtles admitted as the air temps and water rapidly goes from cool to cold. If you find a turtle on the beach or in the marshy area not moving do not assume it is dead. Gently pick it up and place it in an unheated area (car, garage): do NOT try to warm it up as that may cause the turtle to go into shock. Call our Director of Beach Operations, Terry Meyer at: 910-470-2880. Alternate numbers for emergencies are Director Jean Beasley at: 910-470-2800 or the State of NC hotline for stranded, sick and injured turtles at: 252-241-7367. The state number picks up 24/7.