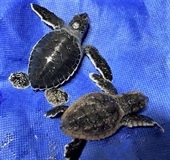 If you're feeling like nothing good has happened this year let us offer you a little ray of sunshine. There were one-hundred-seven sea turtle nests on Topsail beaches over the summer, and almost all of them hatched. We lost only one to a hurricane, and the fate of the three nests laid very late in the season will depend on how cold it gets over the next few weeks. But by and large those ambitious turtle mamas left town leaving behind a plethora of healthy babies.
Topsail has always been loggerhead territory but in the past few years some wandering greens have taken a liking to our sand. This year we had nine green nests, but until the DNA analysis of each single nest egg taken for research is complete we won't know exactly how many ladies were involved in that effort. Turtles normally nest multiple times, so although it's not likely that these nests were all from one especially fertile gal it is possible that many of those hatchlings call just one or two ladies "mom."
If you've visited us (and we're sorry that none of you could this year) you know that loggerheads and greens look totally different. Even if you don't take the time to count and analyze scute patterns just by looking at the shapes of their heads and bodies it's obvious that they are not the same animal. And the difference is clear even when they're just "pipsqueaks" - pun intended. The baby greens, very dark and outlined in white are all about those flippers. They are stunningly beautiful, as of course all babies are.
The Topsail Turtle Project volunteers constantly monitor nests showing signs of activity. But sometimes those mischievous hatchlings sit just below the sand, probably giggling, until they're good and ready and boil out just after the humans call it a night. That's when bad things can happen, like becoming disoriented by bright lights left on in beach houses and heading over the dunes in the wrong direction. Or making it to the surf but being washed back in multiple times. If they're lucky one of our locals or visitors will find them and call the hospital to report "hatchlings on the beach" or "hatchlings on the road."
Healthy wayward hatchlings are normally sent back out by our beach crew the next evening. But every once in awhile we take in a few at the hospital for some extra TLC and recovery time. Now we have three, one loggerhead and two that Jean suspects
may
be hybrids, loggerhead/greens, based on scute and color variations. "Rocky" was a fragile little critter when he arrived but now pops up excitedly with his mouth open whenever he sees a sucker, er, volunteer near his little pool. He has developed a craving for coquina clams.
Ever try to get just the meat out of one of those? The other two are coming along much better than we expected seeing how weak they were when they first arrived. They will all get a ticket for a boat ride close to the Sargasso Sea when the time comes to bid adios.
There isn't really a time when sea turtles totally disappear from local waters, so please continue to report any and all sea turtle activity, including sick, injured (or dead) to our Director of Beach Operations, Terry Meyer at:
910-470-2880
. Alternate numbers for emergencies are Director Jean Beasley at:
910-470-2800
or the State of NC hotline for stranded, sick and injured turtles at:
252-241-7367
. The state number picks up 24/7.
If the weather holds, we'll try to continue our Saturday turtle drive-bys until Thanksgiving weekend but check our Facebook page for confirmation. Our gift shop volunteers are still taking orders for our turtle merchandise not only during the drive-bys but Monday through Thursday from 9 AM to Noon. Call
910-329-0222
to place your order and arrange a pick-up time. Our on-line ordering for merchandise is up and running. Please visit our Facebook page or website for details.