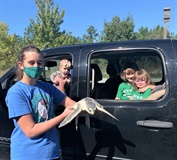 It's been a frustrating year for everybody, but especially for hospital staff. Normally at this point we would have welcomed about 50,000-to-60,000 visitors to our hospital through our public tours, and we'd be continuing those tours through mid-December. But this year: zip. Covid has kept us locked inside, but thankfully, by being vigilant with masking we've managed to keep Covid totally out of the
hospital
.
So how do we open without actually opening? Turtle drive-by events. Jean said this idea literally came to her in a dream one night (we didn't know she slept.) Since you can't come in, we take the turtles outside to meet you. You pack the kids into the family truckster and follow the crowd to our driveway where you'll see our volunteers outside with a rotating cast of our little guys ready to smile and wave a flipper or two.
Tina, along with her regular Saturday staff and our group of UNCW Saturday interns (a senior-level class of marine biology majors and/or aspiring veterinarians) are hosting this event. These students receive three credits for their participation in our semester internship which includes not only hands-on turtle time but classroom type discussions about current patient care and related issues. If our nesting season has not yet ended they may also have a chance to see a nest analysis
When you drive by you'll have a few minutes to visit, learn about the turtle you're meeting and ask a question or two. Obviously, we're not going to roll out a hundred-pound loggerhead but we have some personable greens, and for a short time, representing the Kemp's, "Reggie." Our staff is masked and maintains a safe social distance but is close enough to the car that you'll have a chance to snap a picture or two.
After you wave goodbye to the turtle, a stop at our donation bucket would be greatly appreciated as we continue to operate totally by donation. Continue on around the building to the window displays of our most popular gift shop items. Then call the number on the sign (
910-329-0222
) to place your order and pick up your items that same day. You can also shop by phone @
910-329-0222
Monday through Thursday from 9 AM to Noon to place your order and arrange a pick-up time. Our on-line ordering for merchandise is up and running. Please visit our Facebook page or website for details.
The drive-by is announced on our Facebook page the day before, and our plans are to continue these drive-bys on Saturdays, weather permitting. If we're lucky we can make it through November. Anybody have a pattern for turtle sweaters?
There isn't really a time when sea turtles totally disappear from local waters, so please continue to report any and all sea turtle activity, including sick, injured (or dead) to our Director of Beach Operations, Terry Meyer at:
910-470-2880
. Alternate numbers for emergencies are Director Jean Beasley at:
910-470-2800
or the State of NC hotline for stranded, sick and injured turtles at:
252-241-7367
. The state number picks up 24/7.